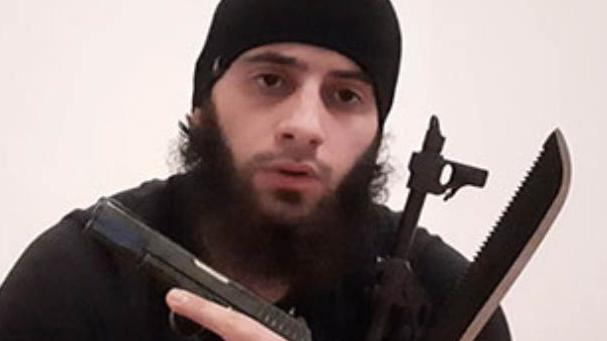 by Sasha Uzunov
Macedonian authorities from the President's Office down to the Justice Minister have refused to comment about controversial World War II Albanian Nazi collaborators statues in Macedonia and Bulgarian inspired anti-Semitism which has swept the tiny Balkan state in recent times as encouraging a terrorist attack near a Jewish Synagogue in Vienna, the Austrian capital over a week ago.
The media office of Macedonia President Mr Stevo Pendarovski was contacted by AlternateComms for a response but none has been forthcoming. Likewise, the country's Justice Minister Mr Bojan Maricic has not been answering any phone calls or text messages on the issue. Albanian Nazi statues and Bulgarian extremism remain political hot potatoes in Macedonia and for the EU and the US.
On 2 November, Kujtim Feizulai, 20, an ethnic Albanian originally from Macedonia but born in Austria, launched a lone wolf terror attack killing four people. Islamic State has claimed responsibility for the outrage.
However, some Albanians in Macedonia were quick to point out that Islam had nothing to do with it.
Feizulai was said to have visited his parents' village in Macedonia, in the west of the country, every year. Was he a young misguided soul who was radicalized by Islamic State or was there a predisposition beforehand – not linked to Islam – to hate Jews and for that matter Macedonians?
What we do know is if he was visiting Macedonia every year, then he would have been exposed to the already existing World War II Albanian Nazi collaborator statues built in Macedonia by extremist, secular nationalist, Albanian leaders such as Nevzat Bejta who belongs to the DUI party run by Ali Ahmeti. DUI is regarded as hardcore pro-US, hence the refusal by the US to condemn the WWII Albanian Nazi statues.
The statues glorify Xhem Hasa Gostivar and Aqif Krosi Recani, who were members of an Albanian Nazi quisling militia called the Balli Kombetar, and whose supreme commander based in Tirana, Albania during WWII, Midhat Frasher was, according to US experts Christopher Simpson and Richard Rashke, involved in the deportation of Kosovo Jews to the Nazi death camps.
What is ironic is in 2018 Austrian Chancellor Sebastian Kurz visited Macedonia and met with Bejta. When asked about the WWII Albanian Nazi statues, Kurz refused to comment let alone condemn them.
Moreover, anti-Semitism, unheard of in Macedonia since WWII, has alarmingly gained a toe hold in Macedonia because of Bulgaria's malign influence. Macedonia is being threatened with its EU membership being blocked by Bulgaria, which is demanding Macedonia hand over its identity, history, language over, and also whitewashes Bulgaria's role in the Holocaust of Macedonia's Jews during the war. In essence, Bulgaria is demanding that Macedonians accept they are of Bulgarian ancestry
Supporters in Macedonia of Bulgaria's extortion have included influential media pundits such as Branko Trickovski, close to Macedonia Prime Minister Zoran Zaev. Trickovski says the things that Zaev can't say in public.
Trickovski has attacked the well known Macedonian film about the Holocaust, the Third Half, which accurately details Bulgaria's role in the Holocaust during its occupation of Macedonia on behalf of Nazi Germany. Trickovski has also hurled vile nasty insults at Macedonian MP, Rashela Mizrahi, who identifies as being of Jewish ancestry.
If Feizulai was visiting Macedonia every year then he would have noticed the anti-Jewish and anti-Macedonian climate in Macedonia as well as the West's cynical need to support Greece and Bulgaria, both NATO and EU members, as well as support for Albanian extremists, of the secular nationalist variety in Macedonia. To a young impressionable and misguided mind as Feizulai this would have come as "justification" for his actions, even without misusing Islam.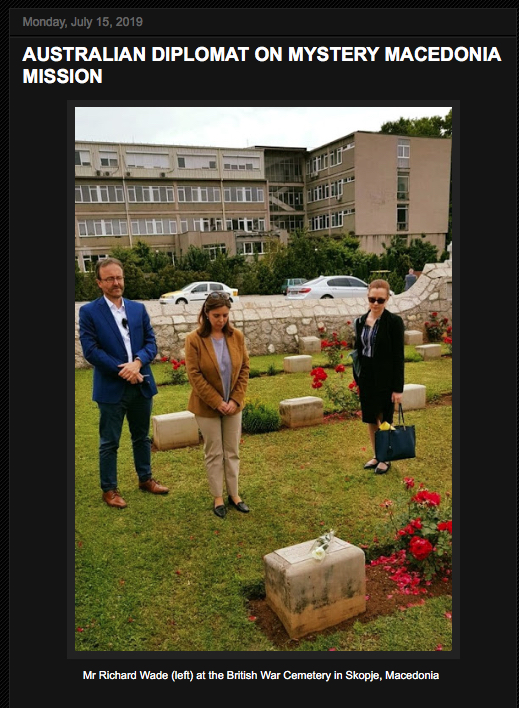 2019 -AUSTRALIAN DIPLOMAT VISITS MACEDONIA ON FACT FINDING MISSION – was Albanian extremism discussed?
Our sister publication, TEAM UZUNOV blog reported last year – 15 July 2019 – that a high ranking Australian diplomat, Mr Richard Wade, visited Macedonia.
"Australia's Department of Foreign Affairs and Trade (DFAT) has confirmed one of its diplomats, regarded by sources as a heavy hitter, was in Macedonia but would not elaborate on the nature of his fact-finding mission.
"DFAT spokesperson issued the following statement to TEAM UZUNOV blog:
""Australian government officials regularly travel to North Macedonia for bilateral meetings on a range of issues."
"Mr Richard Wade, who is based in the Australian Embassy in Belgrade which covers Macedonia and Montenegro as well, was recently in Macedonia and western diplomatic sources have told TEAM UZUNOV blog that Mr Wade was conducting in-depth research and questioning local officials on a wide variety of subjects.
DFAT would not comment if Mr Wade discussed topics, such as the controversial Prespa Agreement signed with Greece which led to Macedonia changing its name, WWII Albanian Nazi collaborator statues built in Macedonia, Bulgarian inspired Holocaust denial and convicted Australian-Albanian terrorist Sevdet Besim, with Macedonian officials.
TEAM UZUNOV blog received a tip about Mr Wade's visit and contacted the Australian Embassy in Belgrade on 7 June 2019 and received a response about six weeks later.