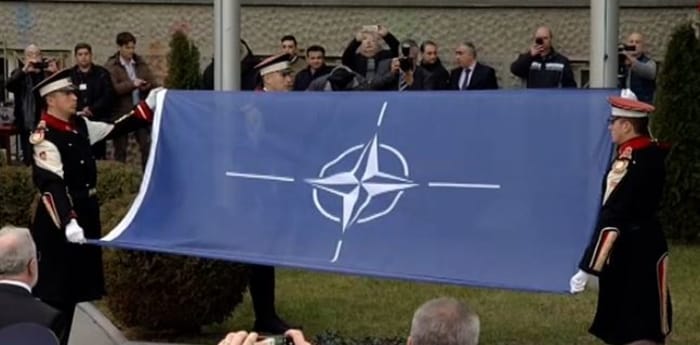 By Sasha Uzunov
One of the consequences of Macedonia being forced to join NATO by hook or by crook has been the recent emergence of anti-Semitism, which has been rare if not existent. Add to this erasing Macedonian identity by the US in order to lower enough Greek and Bulgarian opposition in order to get Macedonia into NATO and the EU.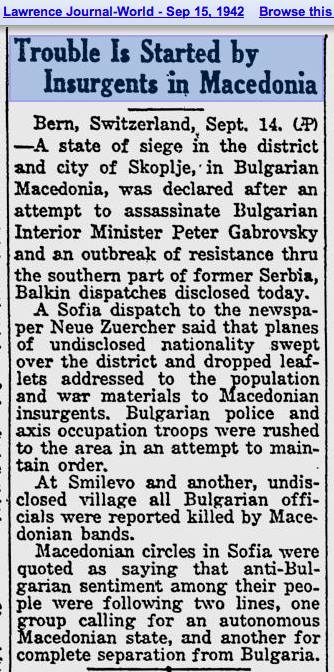 The last bout of Anti-Semitism was during World War II when Macedonia was occupied by Bulgaria, a member of Nazi Germany's Axis Alliance, and the Jews of Macedonia were wiped out.
Every February, Bulgarian Neo-Nazis hold a march through Bulgaria's capital, Sofia, to venerate a WW2 Bulgarian Nazi quisling and anti-Semite and anti-Macedonian General Hristo Lukov
That's disgraceful. During WWII both Jews and Macedonians were on the receiving end of Bulgaria's fascist occupation.
What's alarming is Bulgarian extremism has begun to make inroads in Macedonia with the rise of brazen anti-Semitism and anti-Macedonian behaviour which would have been unthinkable some years ago. Bulgaria is both an EU and NATO member and has used this as blackmail – that is if Macedonia doesn't play ball it will be blocked in joining both organisations.
We've witnessed the vile behaviour of pro-Bulgarian pundits in Macedonia such as Vidana Boskova-Micevska and Branko Trickovski, who have brazenly attacked a Macedonian politician, Rashela Mizrahi over her "Jewishness."
They've done this in order to keep Bulgaria happy. Its Defence Minister Kressimir Karakachanov calls Bulgaria's fascist occupation of Macedonia in 1941 as "liberation" and advocates Nazi-style concentration camps or "reservations" for the country's Roma (Gypsies) and it goes without saying that he does not recognise the existence of a separate Macedonian identity.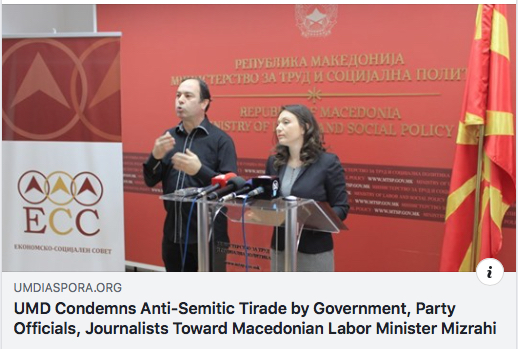 The US-based United Macedonian Diaspora advocacy group explains:
"Mizrahi held press conferences before a sign that referred to the country as "Republic of Macedonia." Labor Minister Mizrahi, standing in front of the ministry's banner was, in effect, quietly protesting the injustice of the process pursued to change Macedonia's official name.
"Enraged by her action, members of the governing coalition swiftly initiated a parliamentary motion to remove her from office. Oliver Spasovski, who led the effort, accused Mizrahi of disrespecting the constitution of the country. Many observers, including UMD, consider the process by which the prevailing government of Macedonia conducted the re-naming vote was itself a violation of constitutional principles. The targeted political campaign against Mizrahi demonstrates a sad reality of Macedonian politics.
"Compounding this political attack was a vicious, unconscionable, and unprecedented trope of insults and anti-Semitic statements. In the most blatant instance, journalist Branko Trickovski, tweeted out against Mizrahi that she "ate hummus from dead Jews again." Another journalist publically stated he was surprised she was so "dumb for a Jew." SDSM party activists called for Mizrahi to display the "Star of David" at her office. These despicable statements were echoed by others, who found displeasure in Mizrahi's quiet resistance to the hijacking of Macedonia's name and identity. This terrible anti-Semitic tirade occurred at the same time as Jews and nations across Europe and the West commemorated the 75th anniversary of the liberation of the Auschwitz concentration camp.
The scandal surrounding the removal of Mizrahi gained negative international attention for Macedonia, with newspapers, such as the New York Times and other prominent outlets, reporting on the anti-Semitic behaviour at Mizrahi's expense.
"UMD fears that the treatment of Mizrahi by the social democrats and their supporters in the media will undoubtedly worsen the general situation with Jews in Macedonia, and will push many Macedonian Jews away from assuming valuable public roles."
---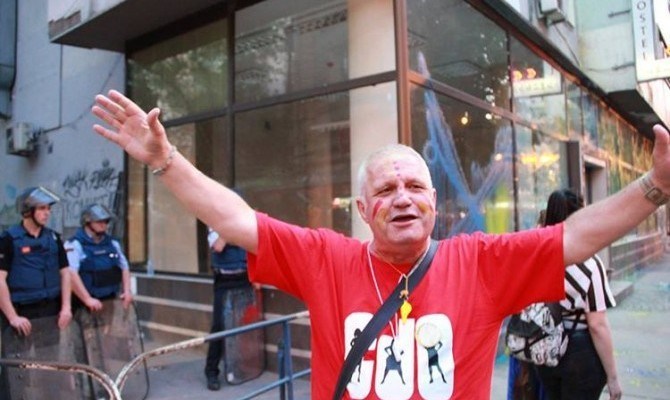 I warned some months ago about the vile behaviour of Trickovski (pictured above) and in 2011 about Bulgaria's attempt at Holocaust Denial 
Ms Mizrahi was sacked by a vote in the Macedonian parliament where she became the victim of a nasty racist and sexist attack upon her by Albanian Neo-Nazi MP Xhevat Ademi, a member of the DUI Albanian nationalist party in Macedonia, who ridiculed, mocked her by saying that it took a woman and a Jew and a non-Macedonian -to use his descriptions – to defend Macedonian patriots who were not man enough to do so.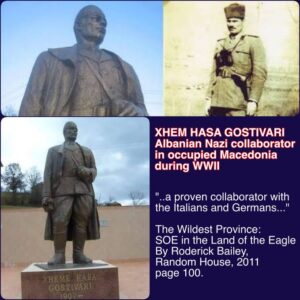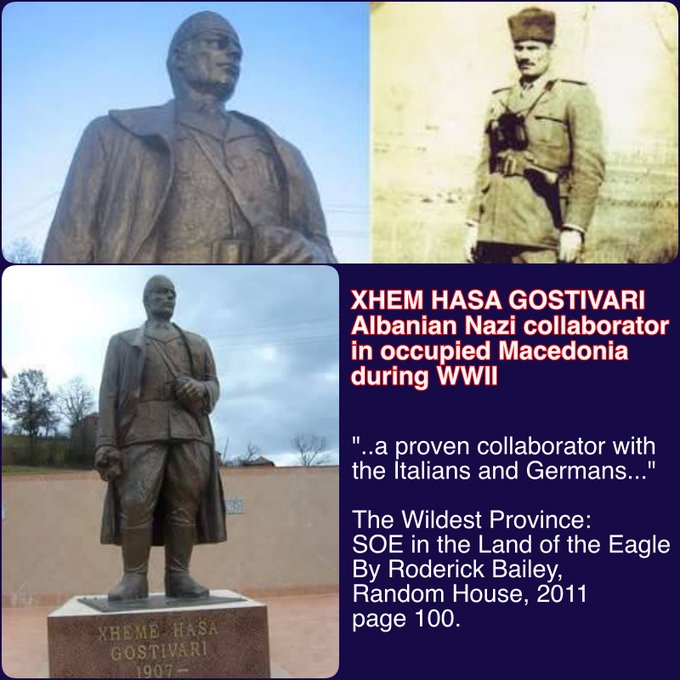 KNOCK ON EFFECT – 
When the US and EU openly support Albanian Neo-Nazis in Macedonia then others will be emboldened to try their "luck" such as Bulgarian nationalist politicians who have made outrageous demands that Macedonia change its history, deny its own specific identity and not mention too loudly Bulgaria's role in the Holocaust of Macedonia's Jews during WWII. This is why anti-Semitism in Macedonia has emerged in recent times.
In 2001 the Kosovo Liberation Army's offshoot, the National Liberation Army led by Ali Ahmeti, invaded Macedonia to take territory for a Greater Albania – when this plan stalled and the terrorists – initially damned by the West – were overnight transformed into aggrieved civil rights activists.
Ahmeti and his crew including NLA field commanders became the genesis of DUI (BDI) ethnic Albanian nationalist political party in Macedonia as they swapped their weapons and combat fatigues for MP's business suits. Later joined by other commanders such as Nevzat Bejta and Talat Xhaferi.
Bejta as the Mayor of the town of Gostivar in Western Macedonia and a Macedonian government minister built a statue in 2006 to a notorious World War II Albanian Nazi collaborator Xhem Hasa Gostivari who had killed Macedonians and Albanians opposed to fascism during the War. The statue of Xhem Hasa Gostivari was placed in his birthplace in the village of Simnica, populated by ethnic Albanians, and next to a neighbouring ethnic Macedonian village. Simnica is close to the town of Gostivar, which has a large ethnic Albanian population.
Nevzat Bejta followed that up with a second Nazi collaborator statue in 2015 – this one of Aqif Krosi Recani in Recani's birthplace, the village of Recane also close to Gostivar and near the source of the Vardar River, Vrutok.
Ali Ahmeti has gone on public record that one of his motivations for starting the 2001 war was to ethnically cleanse Macedonians in the west of the country where a large number of Albanians live and create a racially pure Greater Albania including Albania, Kosovo and Western Macedonia and a slice of northwestern Greece called Chamerija. This ideology was shared by Nazi collaborator Xhem Hasa Gostivari.
A number of Albanian football fans in Macedonia call themselves "Ballists" in "honour" of the Nazi quisling Balli Kombetar. Some even wave large portraits of Xhem Hasa Gostivari at football matches in Macedonia. It would be akin to say Croat extremists waving portraits of Croatian Nazi collaborator Ante Pavelich at a football match etc.
Because Ali Ahmeti and his DUI party are regarded as 100% loyal to the US, international scrutiny of the Albanian Nazi collaborator statues in Macedonia and the extremist ideology, which underpins them, is deliberately ignored or deflected.  Ahmeti's DUI party was a coalition partner of the Zaev Government in Macedonia. Prior to this DUI had been a coalition partner for a decade with ousted Macedonian Prime Minister Nikola Gruevski, of Macedonian nationalist party VMRO-DPMNE, who has fled to Hungary to avoid jail time over a corruption indictment.
Ahmeti became useful when his votes were needed to change Macedonia's name in order to lower enough Greek opposition to Macedonia joining the EU and NATO. Many Macedonians opposed the name change by deliberately boycotting a referendum on the issue in late 2018. To ram through the Prespa Agreement, the Zaev government in effect blackmailed some opposition MPs to cross the floor and vote in favour by inducements and threats such as amnesty and avoiding jail over outstanding corruption charges that had been previously laid.
PRESPA AGREEMENT & BULGARIAN GOODNEIGHBOURLY DEAL
Therefore it comes as no great surprise that DUI supports the much-hated Prespa Agreement signed in 2018 which in effect erases Macedonian identity in order to remove the Greek veto of Macedonia's EU and NATO membership. Likewise, the so-called "Goodneighbourly deal" with Bulgaria was signed in 2017 to satisfy Bulgarian nationalist demands. – more on the Prespa Agreement here and the Bulgarian Goodneighbourly deal here
Another tactic/strategy to take away focus from the Albanian Nazi statues in Macedonia is to play the "Russia interference" scare. Whatever the level of alleged Russian interference is, it should not deter anyone from being able to criticise Albanian extremism in Macedonia and its supporters in the West.