Comment By Sasha Uzunov 
Holocaust gaffe – Freudian slip? Is #Macedonia PM Zoran Zaev a closet anti-Semite & pro-Bulgarian nationalist who let slip his mask?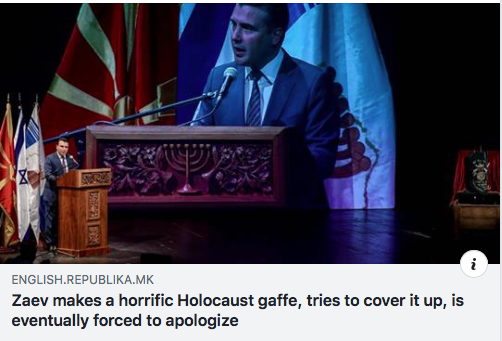 IS ZORAN ZAEV A CLOSET ANTI-SEMITE? A hater of Jews, as well as a hater of Macedonians? Is he a pro Bulgarian nationalist?
Macedonia's Prime Minister Zoran Zaev commemorated the Holocaust this year with the nasty gaffe -calling the Holocaust a Jewish tradition instead of the word tragedy and last year refused to remove WWII Albanian Nazi collaborator statues built by Albanian leaders, who also happen to be his coalition partners.
After making the gaffe and his media unit trying to erase it, he eventually came forward and apologised for his error. Even if we accept it was a genuine error, an inadvertent slip of the tongue, the people that Prime Minister Zaev hangs out with and their ideology point to the contrary.
As you would expect, the US, EU and even The Netherlands have remained silent about WWII Albanian Nazi collaborator statues in Macedonia instead have tried to "polish" the image of Albanian nationalists, including the Deputy Prime Minister Bujar Osmani, from the DUI party which has actually built these statues. Part of this "polish" is to have Osmani front up to Holocaust commemoration events but as you can conclude this is highly contradictory if not hypocritical and downright cynical.
Then there is Branko Trickovski, a media commentator very close to the Zaev camp, who attacked The Third Half, a Macedonian film about Bulgaria's role in the Holocaust of the Jews in Macedonia during WWII. Part of this was the "softening up" process to accept the so-called Good Neighbourly Agreement signed by Macedonia and Bulgaria in tandem with the later Prespa Agreement signed by Macedonia and Greece, at the behest of the US. Both of these "agreements" in effect wipe out Macedonian identity, change Macedonian history in order to satisfy Bulgarian and Greek demands.
PM Zaev's close working relationship with Boyko Borissov's Bulgarian coalition government – consisting of hardcore extremists including Neo-Nazi Ataka – also raises questions as to Zaev's private feelings towards Jews and for that matter Macedonians. Is he a Bulgarian nationalist?