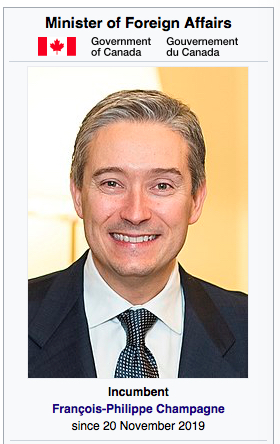 Canada's Foreign Minister François-Philippe Champagne has been alerted to the possibility that Macedonia could send an Ambassador, Mr Agron Buxhaku who has links to Albanian Neo-Nazi extremists, to his country but a Ministry spokeswoman says Mr Champagne won't comment.
'We politely decline your request for an interview at this time," said Ms Krystyna Dodds of Global Affairs Canada.
Mr Champagne's office was contacted in December 2019 for comment or reaction. The response came in late January 2020.
Mr Buxhaku, is a former Member in the Macedonian Parliament for Albanian ultra-right-wing nationalist party DUI before becoming a diplomat, going on to serve as Ambassador to France from 2009 to 2015.
Mr Buxhaku has never dissociated himself from the party's veneration of World War II Albanian Nazi collaborators such as Xhem Hasa Gostivari.
Mr Buxhaku was in December 2019 named in a list of Ambassadors by Deputy Prime Minister of Macedonia, Mr Bujar Osmani, also of the DUI party.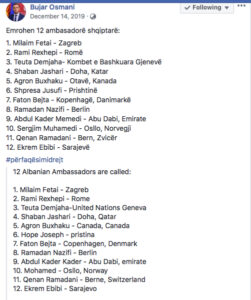 In 2019 American Neo-Nazi Kaleb Cole was banned from entering Canada for life by authorities.
Macedonia is gearing up for a national election on April 12 this year. The position of Macedonian Ambassador to Canada and even Australia remained unfilled. The Macedonian Foreign Affairs Ministry has yet to confirm the position of Ambassador to Canada.
The Albanian ultra-nationalist party DUI was in a coalition government with the outgoing Macedonian Social Democrats (SDSM) led by Prime Minister Zoran Zaev. Prior to Zaev coming to power in 2017, DUI was in a coalition with Macedonian "nationalist" party VMRO-DPMNE from 2006 to 2016.
The leader of DUI is Ali Ahmeti, a former terrorist who started a war in Macedonia in 2001 with the objective to create a Greater Albanian by hacking off a slice of western Macedonia, where a sizeable ethnic Albanian minority lives. Initially, his "guerillas" the NLA, an offshoot of the Kosovo Liberation Army, militarily had the upper hand against Macedonian security forces but the tide began to turn and Ahmeti was on the verge of being defeated at the Battle of Aracinovo, on the outskirts of the Macedonian capital Skopje, when the United States intervened to save Ahmeti and his NLA from being wiped out. Ironically, it was the US that had funded and trained the NLA in the first place.
The narrative pushed by the Western media changed to suit the US- Ahmeti went from being a terrorist condemned by the West to a guerilla fighter pushing for greater "civil rights" for Albanians in Macedonia. After the conclusion of the 2001 war, the so-called Ohrid Framework Agreement was signed by Macedonian and Albanian leaders, though in reality created by the US to get the NLA off the hook for starting the war, which in effect federalised the country and installed Ahmeti as a US proxy and political kingmaker. He has come in very handy, especially in supporting US's strategic needs -that is getting Macedonia into NATO at all cost even if it meant changing the country's name and erasing its identity in order to lower enough resistance from neighbouring Greece and Bulgaria, both staunch NATO and EU members and US allies.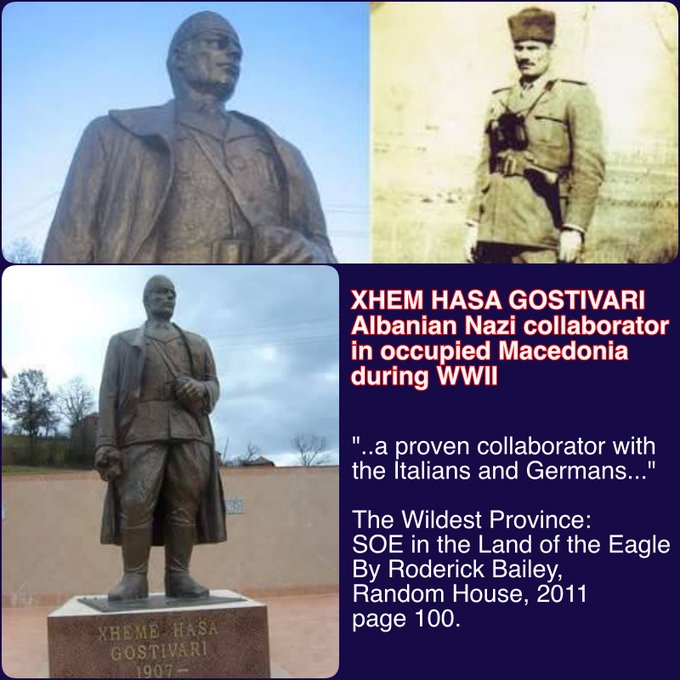 Yet in 1998- just 3 years before the war –  "Arben Xhaferi, an ethnic Albanian political leader admitted that the ethnic Albanian in Macedonia are better off than those of any other Balkan country. (cited by The Christian Science Monitor newspaper)." – link 
Anecdotal evidence suggests that ethnic Albanians, predominately Sunni Muslim, are no more than 15% of the population of Macedonia instead of the exaggerated number of 25% which gets bandied about by the Western media. But no census has taken place in the country in over 2 decades. The majority are native ethnic Macedonians, mainly Orthodox Christians. There are small numbers of Roma (Gypsies), Serbs, Turks, Bosniaks. A sizeable number of Albanians in Macedonia arrived from Kosovo.
In 2006, Nevzat Bejta, a former NLA commander and the Mayor of Gostivar, a predominantly Albanian town in western Macedonia, built a statue to a notorious World War II Albanian Nazi collaborator called Xhem Hasa Gostivari, who with Fascist Italian and Nazi German assistance began a campaign of ethnic cleansing of native ethnic Macedonians from western Macedonia in a bid to create a racially pure Greater Albanian under the aegis of the Axis.
A district in Skopje, the capital of Macedonia, is named Debar Maalo, and it refers to the Macedonians who fled the town of Debar, near the Albanian border and settled in Skopje during World War II because of Xhem Hasa Gostivari's brutal ethnic cleansing.
The Macedonian and Albanian Partizans battled with Hasa and his Nazi quisling militia called the Balli Kombetar, eventually, Gostivari and his forces were defeated by late 1945.
In 2015 Bejta built a statue to another Nazi collaborator Aqif Krosi Recani. Bejta is a senior leader within the ranks of DUI.
THE STRATEGY OF SILENCE:
The issue of Albanian Neo-Nazi ideology in Macedonia remains a sensitive and touchy one with the Western media refusing to throw too much light on it as it would portray the US in a very negative light for supporting extremists. The US doesn't deny the existence of Albanian Neo-Nazis in Macedonia it just doesn't comment in order not to give the topic any kind of oxygen.
California State (US) newspaper archive
1943 – ETHNIC CLEANSING OF MACEDONIANS IN WESTERN MACEDONIA
Albanian & Italian colonial settlers in western Macedonia.
San Bernardino Sun newspaper, California, US, Volume 49, 4 April 1943 – page 4. – LINK
Nazi partners quarrel – Nazi collaborator Bulgaria furious at Axis ally Fascist Italy for deliberately settling cooperative Albanians and Italians in [western] Macedonian towns to deliberately change ethnic composition. Bulgaria angry at not doing its own colonisation -no doubt aiming to Bulgarianise the population.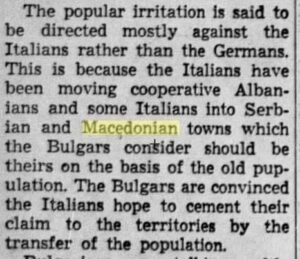 "Our sole aim is to remove Slav [Macedonian] forces from territory which is historically Albanian."
In 2001 Ahmeti's battle cry was to replicate the ethnic cleansing of Macedonians from west of the country. When his plans began to falter militarily he then cleverly dropped the Greater Albania project and tried to present himself as a civil rights fighter for Albanians.
One of Ahmeti's commanders: "Like all wars, ours was for territory – not because of some human rights problem! – link 
ISSUE RAISED WITH US SECRETARY OF STATE – MIKE POMPEO
The United Macedonian Diaspora, a US-based advocacy group, has written to the US Secretary of State Mike Pompeo urging him to look into why there are WWII Albanian Nazi collaborator statues. see link here