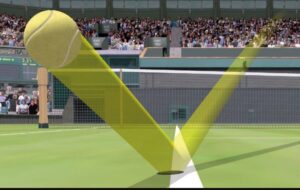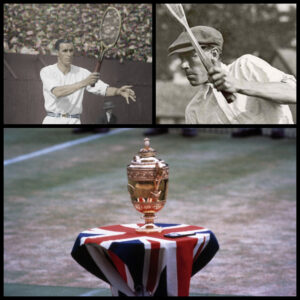 by Sasha Uzunov
Following the 2022 Australian Open, Tennis Australia, the governing body, will review a claim made on its website that Australian Norman Brookes was the first "foreign man" to win the singles title at Wimbledon, the All England Tennis Championships and unofficial World title in 1907 after Alternate Comms website pointed out that Brookes was a British subject and Australia was a part of the British Empire when he won Wimbledon and was not a "foreigner."
Tennis Australia spokeswoman Ms Prue Ryan issued the following statement:
"Thanks very much for letting us know. We will certainly look into this further following the Australian Open. Appreciate you bringing it to our attention."
Alternate Comms extensive research has revealed that American Bill Tilden was the first foreign male to win the Wimbledon singles title in 1920, ironically against Australian Gerald Patterson, who had won the title in 1919, the year before.
Original story here at this link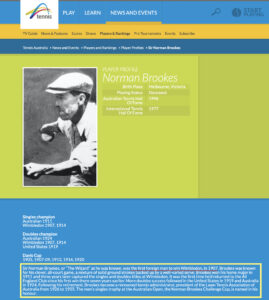 The question put to Tennis Australia:
SUBJECT: Norman Brookes
I wanted to bring to your attention the following. There is an online article on the Tennis Australia website about Australia's first true tennis sports star Norman Brookes, who was an incredible man to say the least. It contains incorrect information. link is here: https://www.tennis.com.au/player-profiles/sir-norman-brookes
The article claims that Norman Brookes was the first "foreign man" to win Wimbledon in 1907. This is not true.
In 1907 when Brookes won Wimbledon, he was a British subject as were all Australians and he was definitely not a foreigner. Furthermore, Brookes and all other Australians travelled on British passports well into the 1950s before a distinctive Australian citizenship & passport was issued.
In 1907 Australia was a dominion (self-governing colony) of the then British Empire. It was not an independent state as we now know it. To draw a comparison for you, Puerto Rico is a US territory not an independent state and its people are US citizens but Puerto Rico has its own sport teams which compete at the Olympic Games.
The first "foreign man" to win Wimbledon was American Bill Tilden in 1920 by ironically beating Australian Gerald Patterson.
A search of reports and press statements by the Lawn Tennis Association of Australasia (the precursor to Tennis Australia) of that era reveals that the  Lawn Tennis Association of Australasia officially regarded Australians as being of "British race" -to use the terminology of that period.
All the relevant information you need to look at is contained in an article I wrote for my own independent news website, and which has links to various Australian newspaper archives with evidence. The link is https://alternatecomms.com/first-foreigner-winner-of-wimbledon-norman-brookes-or-bill-tilden/
My question is "Will Tennis Australia amend the incorrect information on its website about Norman Brookes and give American Bill Tilden the rightful credit as the first foreigner to win Wimbledon outside the then British Empire?
I thank you for your valuable time and look forward to the Australian Tennis Open in mid-January 2022. Fingers crossed that Australian Ash Barty can win it