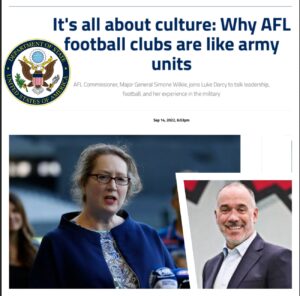 AFL & Australian Rules Football
US WARS & FOREIGN POLICY BARRACKER?
Op-Ed – Sasha Uzunov, Editor, Alternate Comms
The Australian Football League is the governing body of Australian Rules Football. Normally you would assume that a sports body should stick to running sport and stay out of politics. But that's not the case with the AFL. The AFL's behaviour is contradictory if not downright hypocritical and opportunistic, hidden behind a flimsy screen of social activism so full of holes you can drive a semi-trailer truck through it.
Recently, AFL's Essendon Football Club CEO Andrew Thorburn barely lasted 24 hours and was forced to resign his position after it was revealed he was the leader of a Christian church with strident views on abortion and homosexuality
Yet there has been a stone-cold silence from the Australian media over the AFL becoming a barracker (supporter) and promoter of the foreign policy and of a foreign state, the US. AFL is not a publicly elected body nor a government statutory body overseen by any federal or state parliament. It receives millions of dollars of tax funding. But it has no mandate to use Australian tax payers' money to promote US State Department's agenda in Australia, which it does. The Australian Federal government and the Federal Parliament have a public mandate to determine foreign and defence policies.
Cleverly associating US foreign policy and US wars in Iraq and Afghanistan with playing Australian Rules Football is outrageous. Yet this what AFL Commissioner and ex Australian Army General Simone Wilkie, awarded US Bronze Star medal for the unsuccessful Afghan war, has done. She's a long standing member of pro  who US lobby group too. General Wilkie joined the AFL Commission in 2015.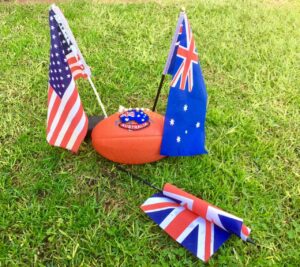 In an official AFL podcast titled: It's all about culture: Why AFL football clubs are like army units,"
"She said her experience in Iraq under US Army General David Petraeus showed her the importance of leaders understanding the challenges faced by their people"
Invoking General Petraeus as a role model is absurd, considering he was forced to resign for unethical behaviour for leaking confidential information to his mistress who was also his biographer. He was cheating on his wife at the time.
To take the footy analogy, metaphor, further, an Army General such as General Wilkie (retired) who lost in Afghanistan would be like a footy coach who has lost a Grand Final giving tips on success.
The reason for the US and its ally Australia going to war in Iraq in 2003 was based on the lie of Iraqi dictator Saddam Hussein possessing Weapons of Mass Destruction (WMD). Australian whistleblower and national security expert to the Australian federal government Andrew Wilkie, General Wilkie's then husband, revealed there were no WMD. Using the Iraq War as an example for leadership in Australian Rules Football is pure nonsense. It simply sounds like a clumsy, blatant attempt by the AFL to promote US nationalism in Australia.
Alternate Comms has endeavoured repeatedly to get a response from the AFL and General Wilkie about the AFL's support for US foreign policy agenda. But no response has ever been forthcoming. Alternate Comms even put in a Freedom of Information (FOI) request over the 2016 visit of US Vice President Joe Biden to an AFL match in Melbourne. We received hardly anything other than an email which was heavily redacted. What's so secretive?
The AFL has pushed its association with the US government on other occassions such as in 2016 it laid out the red carpet for then US Vice President Joe Biden visiting Melbourne. In 2019 the US Ambassador Arthur Culvahouse Jnr was invited to the Collingwood Club. Culvahouse was a US President Trump appointee as Ambassador. Trump has been condemned for his negative attitude towards native Americans and migrants.
You have to ask why this need by the AFL to strongly associate itself with the US government?
Mind you, linking the game of Aussie footy with superpowers by the AFL (then VFL) is nothing new, During WWI and WWII it was an active supporter of the British Empire.
This brings us to the AFL's "anti colonial" policy in which it sees itself as the champion of indigenous Australians. The AFL has erased its British heritage and re-written its history. Be that as it may. The AFL's female competition is the AFLW. The AFLW refused to give a minute's silence over the death of Australia's Head of State, Queen Elizabeth II, also the British monarch, because of indigenous Australian opposition. Fair enough. But the AFL hypocritically has been happy to associate itself with the US which has a long history of mistreating native, indigenous American (Indians).
The AFL (then the VFL) via the US State Department has had a long-standing relationship going back to the late 1970s with the US National Football League (NFL), the governing body of American Football (Grid Iron). The AFL sees the NFL as a role model despite the NFL having a history of denigrating native Americans with the use of the name "Red Skins" for its Washington team, which only changed its name in 2020 after the massive protests that rocked the US over the deaths of African Americans at the hands of US law enforcement.
The US government is one of the strongest opponents of Indigenous Australian Land Rights in the Northern Territory, especially if any claims are made to native land close to the US spy base Pine Gap, which is near the central Australian town of Alice Springs. Documents in the National Archives of Australia reveal Australian bureaucrats immediately factor that in when claims are made. Truly remarkable that Australian public servants are beholden to a foreign state and its control of a slice of Australian sovereign territory and also traditional indigenous land taken by the British colonies in the 19th century.
Related story – POLITICAL FOOTBALL