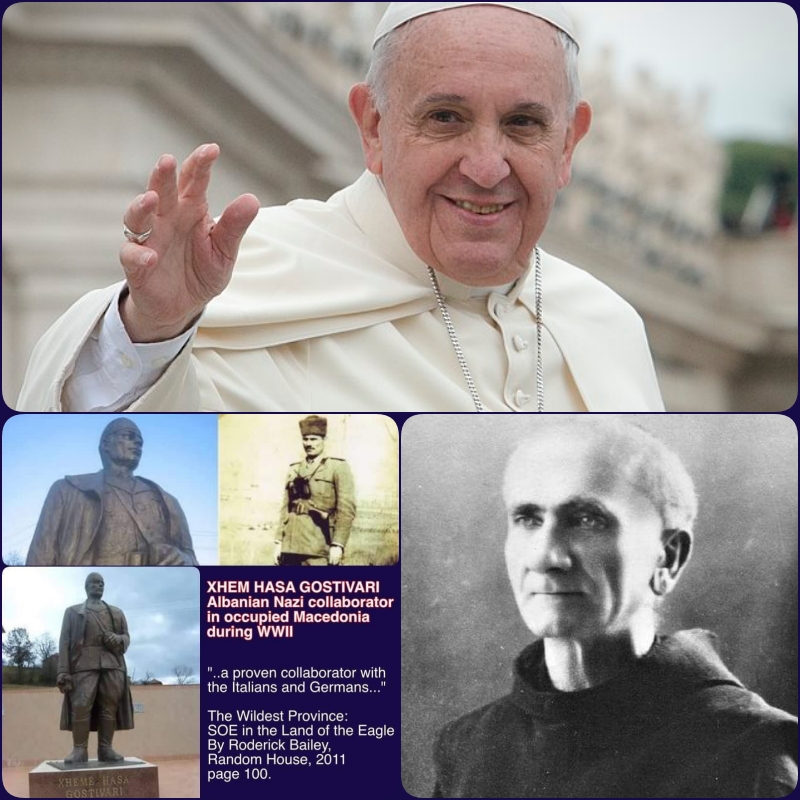 by Sasha Uzunov 
After repeated requests, a Vatican spokesman in Australia has not responded to questions over Pope Francis's controversial visit to Macedonia last year and his silence over WWII Albanian Nazi collaborator statues in that country.
Monsignor Giuseppe Quirighetti, Secretary to the Apostolic Nuncio in Australia (Vatican Ambassador), has not returned repeated telephone messages left with him. His assistant has cited Monsignor Quirighetti as being busy with Catholic church issues.
A Vatican source has told Alternatecomms website that Nazi history is very "problematic and controversial for the Vatican."
The source pointed out that an Albanian Catholic Franciscan Friar Anton Harapi was a member of a quisling government set up by Nazi Germany in Albania during WWII.
Last year Pope Francis visited Macedonia, of which the majority are Macedonians who adhere to Eastern Orthodoxy. There is a small number of native, indigenous Macedonian Catholics plus a tiny number Croat and  Albanian Catholics. Prominent Catholic Mother Teresa was an ethnic Albanian born in Skopje, Macedonia, then under Serbian colonial rule.
Many Macedonians saw the Pope's first-ever visit to Macedonia as a cynical attempt to give legitimacy to Macedonia being forced to change its name for US ally Greece, ironically a predominately Orthodox Christian country.
QUESTIONS THAT WERE PUT TO THE NUNCIO IN AUSTRALIA 
1. Why does His Holiness Pope Francis and the Vatican support Macedonia's name being changed when the majority of Macedonians are opposed to it?
2. During the Pope's visit to Macedonia, His Holiness remained silent about Albanian Neo Nazi extremism in Macedonia. His Holiness did not condemn the WW2 Albanian Nazi collaborator statues that have been built in Macedonia in recent times. Can you explain why the silence?