SPORT & POLITICS – L.T.A.A. (TENNIS AUSTRALIA) GOES ALL THE WAY!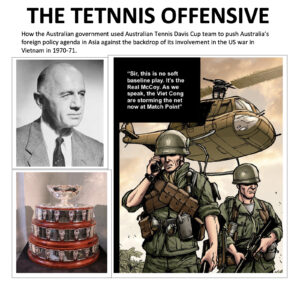 by Sasha Uzunov
The Australian government hatched a scheme in late 1970 to use the country's Tennis Davis Cup team to push Australia's foreign policy in Asia set against the backdrop of the US war in Vietnam, declassified documents in the National Archives of Australia reveal.
The Davis Cup is the premiere international tournament in tennis for nations. In 1970 Australia played in the Asian zone. Australia's High Commissioner (Ambassador) to India reported that the Australian tennis team was hugely popular amongst the Indian people when it played India in the Asia Zone of the 1970 Davis Cup. This then gave an idea to the Australian Foreign Minister Billy McMahon, who a year later became Prime Minister.
Foreign Minister McMahon approached the governing body of Australian Tennis, the Lawn Tennis Association of Australia (LTAA), now known as Tennis Australia, and urged the LTAA to have Australia play again in the Asian Zone of the Davis Cup in season 1971. McMahon had a special "emergency fund" used to hand out tax payer cash to sports bodies competing overseas. In one example, Australian Foreign Affairs (External Affairs) paid for the Australian national soccer team to play a match in Saigon, South Vietnam.
McMahon's reasoning was the popularity of the Australian tennis team in Asia could be used to promote Australia's image and foreign policy in Asia set against Australia's involvement in the US's controversial war in Vietnam, and other parts of southeast Asia such as Cambodia.
Australia had in 1962 committed an Army Training Team in Vietnam which was upgraded to a full combat mission in 1965. McMahon as Prime Minister ended Australia's combat operations in Vietnam by December 1971.