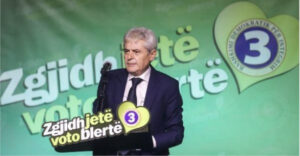 Local municipal elections in Macedonia – October 2021
Right wing Albanian Neo Nazi party (DUI) leader Ali Ahmeti, despite claiming to have an environmental/green platform, has not distanced himself from right wing Neo Nazi ideology nor torn down the WW2 Albanian Nazi collaborator statues built post 2006 by party comrade Nevzat Bejta.
The city of Tetovo, out in the west of Macedonia with an ethnic Albanian  majority, is literally a DUI fiefdom. It has a horrendous pollution problem, bad record of rubbish collection and disposal and recycling.
This so called "Green rebranding" attempt by DUI's is simply spin from DUI's handlers in the US State Department to soften the party's image but without any substance to it – as can be seen by DUI's continued glorification of WW2 Albanian Nazi quislings & refusal to remove the WW2 Albanian Nazi statues. You would have to be a naive fool to believe the re-packaging from Washington.
Instead of peddling spin and phoney rhetoric, the US should be advising DUI to remove the WW2 Albanian Nazi statues.
DUI is a partner in the Macedonian coalition government of Macedonian Prime Minister Zoran Zaev. Ahmeti is a former terrorists who back in 2001 launched a right wing Albanian Neo Nazi insurgency in Macedonia. He has been a reliable US proxy in Macedonia since entering the political field after hanging up his insurgency combat fatigues. Ahmeti is a political kingmaker with whom the main ethnic Macedonian parties have to deal with.
———————————–
Right Wing Albanian Neo Nazi party in Macedonia (DUI) – founder and leader is Ali Ahmeti. DUI now claims to be a "Greens" party even though it hasn't repudiated its extremist ideology nor removed the WW2 Albanian Nazi statues in Macedonia
2001 Ali Ahmeti started a war in Macedonia over Neo Nazi ideology wanting to remove/ethnically cleanse "Slavs" in western Macedonia- the exact same ideology shared by Nazi Germany in WW2 Eastern Europe: Poland, Ukraine, Russia.
Xhevat Ademi– DUI Party Member of the Macedonian Parliament is still banned from entering the US over his terrorist role in 2001 war in Macedonia. In 2020 Ademi launched a nasty sexist and anti-Semitic insult at Rashela Mizrahi, a Macedonian Jewish politician
2006-2015 Nezvat Bejta, later included in DUI leadership group, built statues to WW2 Albanian Nazi collaborators in Macedonia, Xhem Hasa Gostivari and Aqif Krosi.
Other prominent members of DUI are Bujar Osmani, Macedonia's Foreign Minister and Artan Grubi, Macedonia's First Deputy Prime Minister.