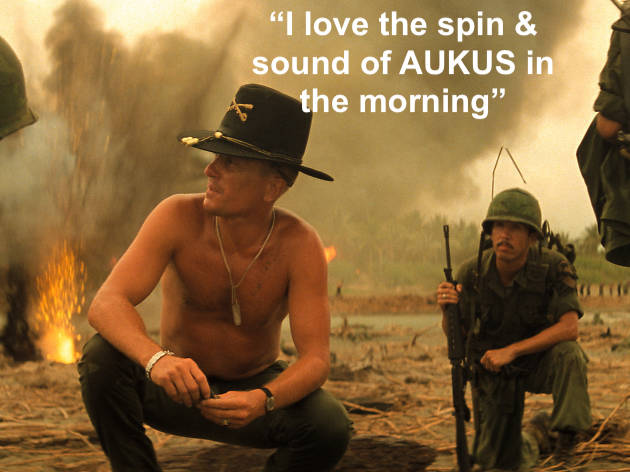 Op/ed By Sasha Uzunov
 The announcement of AUKUS is one of the greatest timed pieces of political spinning and sound-biting of all time. What better way to take away international focus from the US over its 20- year debacle in fighting and losing the war in Afghanistan and throw a political life vest to US President Joe Biden than a new shiny three-way Anglo-sphere alliance of Australia, United Kingdom and the United States, but minus Canada and New Zealand.
Simply put there is no need for AUKUS. Australia is already locked in tight to the US with the existing ANZUS alliance, UKUSA (Five Eyes intelligence sharing agreement) and most importantly of all, the US spy bases that operate on Australian soil at Pine Gap.
American influence in Australia is so pervasive that Australian sports commentators instinctively throw in trendy US sports terms into their commentary of Australian Rules Football, the native game. Australia is a de facto 51st state of the US.
AUKUS deal will see Australia gain nuclear powered submarines in order to counter a China threat being talked up by the US, no doubt motivated to take the focus off US President Joe Biden's poor handling of the US withdrawal from Afghanistan and the speedy takeover by the Taliban, which the US had spent 20 years trying to eradicate but failed. Australia has broken a contract for conventional powered French submarine and angered Paris. The French Ambassador to Australia has been recalled to France for "consultations.'
The French built submarines are more than adequate for Australia's needs. Going nuclear powered could trigger an arms race in the Asia Pacific region. Moreover, it contradicts Australia's long standing opposition to nuclear weapons and nuclear testing, ironically by the French in the Pacific Ocean territories it rules.
Australia is already locked into the ANZUS alliance with the US and New Zealand. The ANZUS Treaty was signed in 1951 during the Cold War. Australia as an American ally has fought in Korea (1951-53) against Communist North Korea aided by Communist China; Vietnam (1962-72), Kuwait/Iraq I (1990-91), Afghanistan (2001-21).and Iraq II (2003-20).
New Zealand became estranged from ANZUS in the 1980s over the issue  of nuclear powered US Navy submarines and ships banned from  entering New Zealand ports. The US and Australia have kept ANZUS going despite New Zealand's estrangement.
Then there is UKUSA – the Five Eyes – an incredible intelligence sharing agreement with the UK, US, Canada and New Zealand. Let's not forget the US spy station at Pine Gap in the desolate Australian desert in the Northern Territory. Pine Gap can through multiple spy satellite feeds pick up almost every mobile phone call and other communications from around the world.
US troops train on exercises with their Australian counterparts on Australian soil. If push comes to shove, Australia will assist the US in having to fight the Chinese. Hopefully that will not happen. However, AUKUS is simply overkill. There is no need for it.