by Sasha Uzunov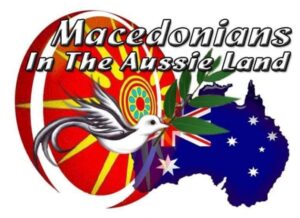 Melbourne's community television, Channel 31, has removed a Macedonian language program over what it claims is a copyright breach but would not reveal which copyright law, whether it was Australian or foreign, was broken.
The program in question, Macedonians in the Aussie Land uses a Macedonian symbol, the Sun of Kutlesh (Star or Vergina) in its logo. Sources have told Alternate Comms that fierce Greek pressure over the use of the symbol led to the program being removed.
Mr Shane Dunlop, Channel 31 Station Manager, was contacted for an explanation, which he provided. But on further questioning didn't respond which copyright law was broken. Greek law and for that matter the controversial Prespa Agreement signed by Greece and Macedonia, but in reality brokered by the US, have no legal jurisdiction in Australia.
Mr Dunlop's statement
"The producer of the program "Macedonians in the Aussie Land" was informed of a decision made by the Channel 31 Melbourne board of directors after a lengthy investigation, that there was a copyright issue with regards to a specific symbol used in their official program logos and marketing. This took place on the 28th of October.
 "I was tasked with relaying their decision to the producer and advised the producer of the program of a requirement to provide evidence of copyright clearance or to remove the symbol from their program logo. They were advised that this decision was applicable to their official show logo and branding only and not applied to the many references of the symbol throughout their program.
 "The board of C31 Melbourne directed me to advise the producer that if neither copyright clearance or removal of the symbol from their program logo/branding was made by the beginning of our 114th season, beginning on Sunday 21st November, then the program would not be allowed to continue. The producer of the program ultimately decided not to comply with the board's request.
 "We are of the understanding that they intend on continuing to produce the program for global audiences via YouTube. We wish the producer the best and we look forward to the possibility of them choosing to return to Channel 31 in the future."