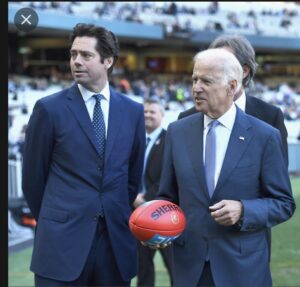 By Sasha Uzunov
The Victorian State Governor, the monarch"s representative, Her Excellency Linda Dessau has declined to comment on the Australian Football League's (AFL) anti Crown but pro US nationalist agenda.
The AFL (formally known as VFL) is the governing body of the sport Australian Rules Football. Governor Dessau is also a former AFL Commissioner and was involved with AFL club Essendon.
Acting Governor's Secretary Ms Taara Olarenshaw released the following statement:
"Thank you for your correspondence to the Governor of Victoria, the Honourable Linda Dessau AC. Unfortunately, the Office of the Governor is unable to assist with your enquiry."
Alternate Comms began an investigation into the AFL's contradictory "anti colonial" policy in which it bans Britishness in order not offend Indigenous Australians but paradoxically promotes American nationalism which is opposed to Indigenous Australian land rights in the Northern Territory where there is a US spy base called Pine Gap, just outside of the town of Alice Springs.
During the 2022 season, the AFLW – the AFL's women's competition- banned a minutes silence for the passing of Queen Elizabeth II, Australia's Head of State. In 2016 the AFL rolled out the red carpet for then US Vice President Joe Biden but no protests were held. A current AFL Commissioner, retired Australian Army General Simone Wilkie has promoted a controversial US Army General David Petraeus as a role model for Australians.
THE FOLLOWING ARE THE QUESTIONS THAT WERE POSED TO THE GOVERNOR:
I am writing to you to seek your comment relating to the Australian Football League (AFL) and the AFL-W (women's competition), the governing bodies of Australian Rules Football in Australia.
You were an AFL Commissioner from 2009-2015 and also had an involvement with the Essendon Football Club.
Question 1: Your Excellency, in 2022 the AFL/AFLW refused to hold a minute's silence over the passing of Her Majesty Queen Elizabeth II, Australia's head of state. As the Queen's representative in the State of Victoria, what is your reaction to that?
Question 2: Do you think it was contradictory and hypocritical for the AFL/AFLW to snub the Queen over Indigenous Australian female footballers' complaints but at the same time the AFL/AFLW promotes American Cultural nationalism, which has a long history of controversial relations with native American Indians and African Americans? Furthermore, the US government has a long history in opposing Indigenous Australian land rights in the Northern Territory.
Question 3: We live in a multicultural society in which all ethnic groups should be treated fairly. Your club Essendon held its 150th anniversary this season. Its founding father in 1872 was Scottish born Scotsman Robert McCracken. Essendon made no acknowledgment of its Scottish heritage. There were no Scottish Highland dancers or Scottish bagpipers nor members of Victoria's Scottish community invited to any of the AFL matches. What is your reaction to that?
Question 4: If and when His Majesty King Charles III, Australia's Head of State, visits Victoria, will you be urging the AFL to invite His Majesty to an AFL match or event? In 2016 the AFL invited foreign state dignitary US Vice President Joe Biden to a match.
Question 5: On that note, many of the AFL clubs those formed pre-WWII and the AFL itself (then known as the Victorian Football League) formed in 1896 and the previous older competition the VFA (Victorian Football Association) formed 1877 were established by Australians who culturally identified as British and as monarchists. For example, Collingwood was founded by a London born Englishman and monarchist WD Beazley in 1892; North Melbourne was founded by London born Englishman and monarchist JH Gardiner and so forth. Will you be urging those AFL clubs with links to the monarch to invite King Charles III, Australia's Head of State? In 2019 Collingwood invited the US Ambassador to Australia, Mr Arthur Culvahouse Jnr.
– MORE TO FOLLOW –