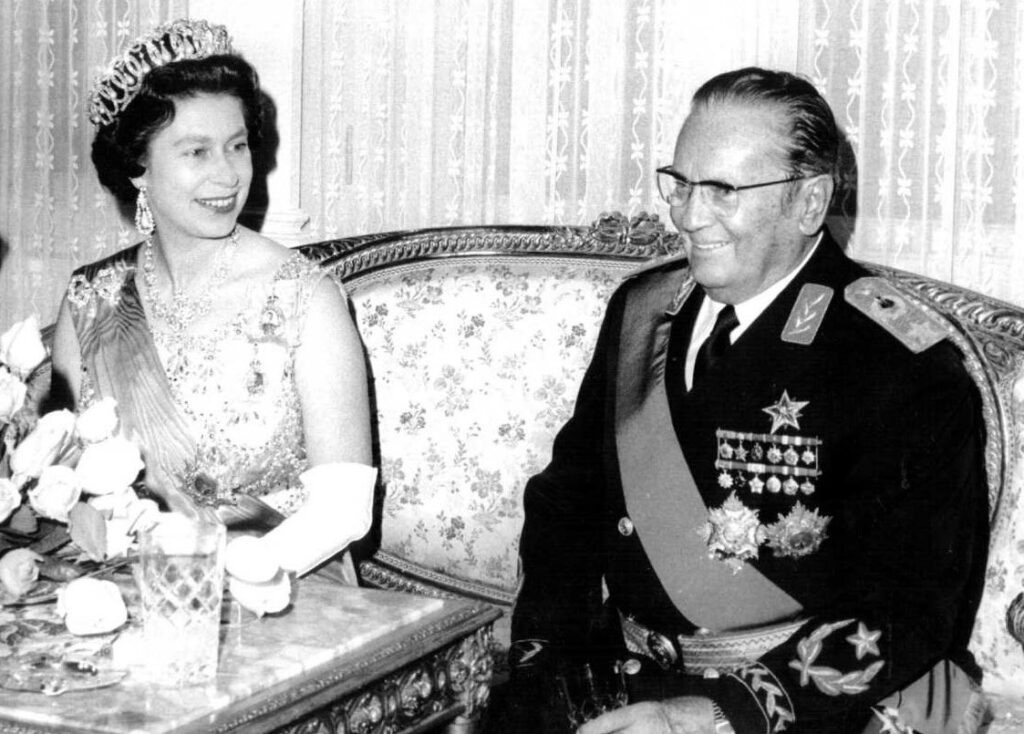 by Sasha Uzunov
The communist Yugoslav authorities warned both Australia and Britain that an alleged assassination attempt on Queen Elizabeth II would be made during her visit to Yugoslavia in late 1972 involving Australian-Croatian nationalists working with Palestinian Arabs, according to declassified Australian intelligence files.
The Yugoslav Ambassador to Australia, Mr U. Vidovic, conveyed the warning directly to the Assistant Secretary of Australian's Foreign Affairs Department, Mr R.N. Birch who wrote up an official record of conversation which was given to the Australian Security Intelligence Organisation (ASIO), the country's domestic counter-intelligence service.
Mr Birch wrote:
The Ambassador came to see me at short notice. He began by referring to the visit to Belgrade from 17-21 October of Her Majesty Queen Elizabeth, Yugoslav security authorities were concerned that terrorists might seek to upset relations between Yugoslavia and Britain by making an attempt on her life.
They would be taking all possible precautions in Belgrade but the Ambassador had been instructed to seek the cooperation on Australian authorities in preventing any undesirable persons from leaving Australia around this time. He commented that these might not only be Croatians but also Palestinian Arabs.
He understood that Australian citizens needed no visa to enter Britain and, consequently, Yugoslavia might not be a stated destination. Similarly, such persons might plan to enter Yugoslavia via West Germany or Italy. I told the Ambassador he could be assured that the Australian authorities were already giving close attention to overseas travel by certain individuals and I would bring his further representations to official attention.
The alleged plot sounds preposterous to begin with but was taken seriously by both Britain and Australia. The Queen, both Britain and Australia's Head of State, visited Yugoslavia in October 1972 in what was hailed as historic – a British monarch visiting a communist country. However, Yugoslavia ruled by Marshal Tito was seen as a maverick during the Cold War after splitting away from the Soviet Union's orbit in 1948 and becoming a de facto Western ally. Britain's WWII Prime Minister Winston Churchill was one of Tito's strongest backers as the communist leader had conducted a successful resistance against Nazi occupation of Yugoslavia.
The 1972 royal visit to Yugoslavia went without a hitch.
There is speculation that the warning about the plot to assassinate the Queen might have been an attempt by Yugoslavia to discredit exiled Croats living in Australia who were opposed to Tito's Yugoslavia and had long agitated for Croatian independence from the communist federation, which included other nationalities such as Serbs, Slovenes, Macedonians, Montenegrins, Bosnians and so on.
In June 1972 a group of ultra Croatian nationalists from Australia, who saw themselves as freedom fighters but were called terrorists by the Yugoslav regime, undertook a mini invasion of Yugoslavia, and ending up in Bugojno, Central Bosnia. The 19 man group's objective was to incite an uprising that would spread across Croatia. It was put down by Yugoslav security forces and the Army.
The Yugoslav Intelligence Service (known as UDBa or SDB) conducted many false flag operations abroad in the 1970s and 80s. One infamous operation became known as the Croatian Six, where six local Australian Croats were set up by an agent provocateur as "terrorists" and imprisoned by the Australian authorities.