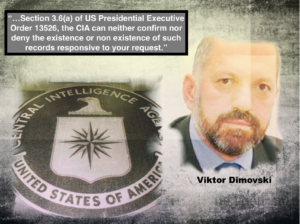 CIA REFUSES FOIA FILE ON MACEDONIA SPY CHIEF – Why is Washington protecting him?
By Sasha Uzunov
The United States' Central Intelligence Agency (CIA) has rejected a Freedom of Information (FOIA) request on any file it might have on Macedonian Intelligence (ANB) chief, Viktor Dimovski, red-flagged by Washington in 2007 for having previous links to the regime of Serbian strongman and US opponent Slobodan Milosevic
Dimovski, a career intelligence officer turned diplomat, also spied upon Australian Macedonians in the 1980s and 1990s firstly for Yugoslavia and later for an independent Macedonia that emerged from the crumbling Yugoslavia in 1991.
The CIA, citing national security reasons, has refused to confirm or deny the existence of any files relating to Dimovski. US journalist Tom O'Neill spent decades investigating CIA links to mass murderer and cult leader Charles Manson. In his book, Chaos, he writes that "FOIA specialists told me that this" – neither confirm nor deny response – "is the closest one can get to confirmation that someone worked for the CIA."
A 2007 US diplomatic cable written by US Ambassador to Macedonia, Ms Milovanovic, raised concerns about Dimovski's appointment as Macedonia's spy chief by the then country's President Branko Crvenkovski, who previously had served as Prime Minister.
Mr Dimovski is mentioned in the US diplomatic cable as having worked in the Yugoslav (and later Macedonian) Interior Ministry, which oversees police and intelligence services, from 1982 to 1995 in the Macedonian city of Bitola. Bitola has a large émigré Macedonian population living in Australia, namely in Sydney and Melbourne.
The US cable red-flagged Dimovski over his close links to Serbia, which the US had opposed during the Yugoslav Wars including the 1999 NATO war in then Serb controlled Kosovo, largely populated by ethnic Albanians. However, Dimovski had passed on useful information to the US, according to the cable.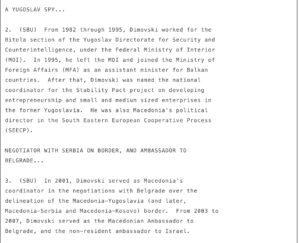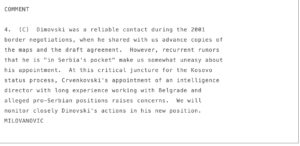 A 1995 CIA report names Dimovski's political patron Crvenkovski, at the time the Prime Minister, as receiving bribes from the Milosevic regime in Serbia to break UN sanctions imposed upon Belgrade during the Yugoslavist wars.
Declassified Australian intelligence (ASIO) files from the 1980s and later Macedonian intelligence files from the 1990s link Viktor Dimovski, though not mentioning him by name, to spying upon Australian Macedonians. Both sets of documents fit within the time frame of 1982 to 1995, Mr Dimovski's period of operational service. The 1990s Macedonian documents specifically name the Interior Ministry's Bitola headquarters, Mr Dimovski's place of employment, as running the spy operations against Australian Macedonians.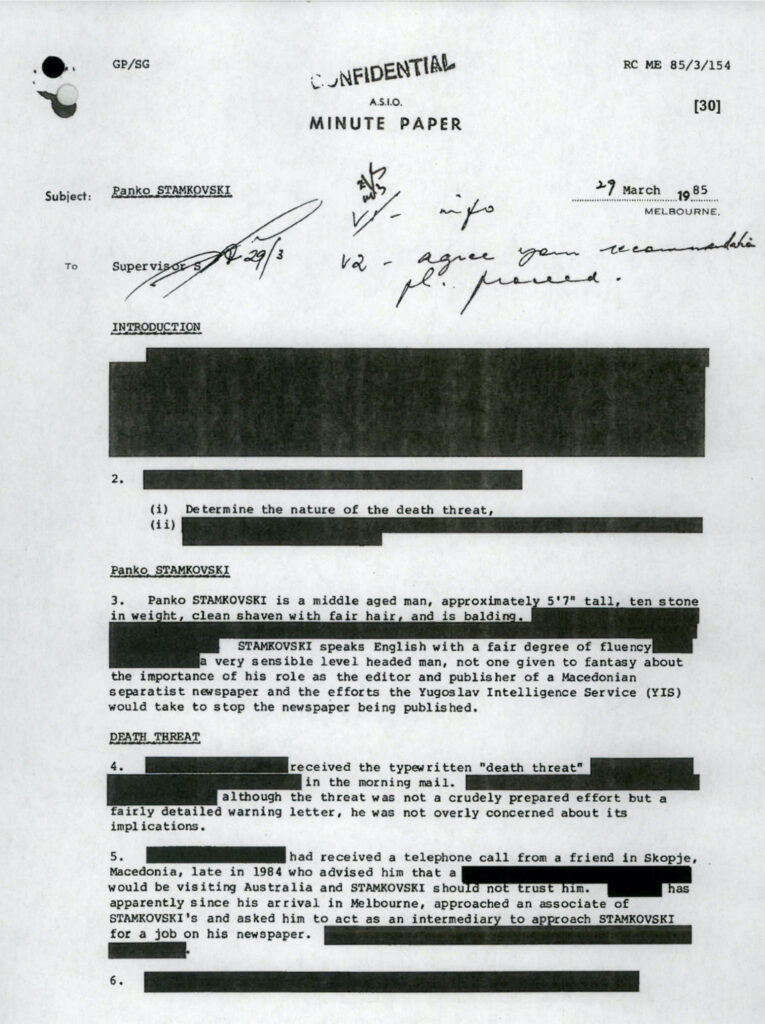 A 1984 Australian Security Intelligence Organisation (ASIO) report alleges that Mr Panko Stamkoski, editor of an influential Australian Macedonian dissident newspaper, the Macedonia Herald, had received death threats from the Yugoslav Intelligence Service (YIS), known to Macedonians as either UDBa or SDB. ASIO took the threats as serious.
The ASIO report: "Stamkoski speaks English with a fair degree of fluency…a very sensible level headed man, not one given to fantasy about the importance of his role as the editor and publisher of a Macedonian separatist newspaper and the efforts of Yugoslav Intelligence Service (YIS) would take to stop the newspaper from being published."

The ASIO report adds: "his newspaper is the only Macedonian language paper which adopts a strong anti-Yugoslav, Greek and Bulgarian stance."
Declassified Macedonian intelligence (DBK) files emanating from the Bitola HQ, where Viktor Dimovski was in charge, from 1996 reveal that Australian Macedonians were spied upon beginning in 1994. Intelligence operatives codenamed Okean (Ocean), Aleksandar and Anton were passing on information.
Australian Macedonians were strongly opposed to Macedonia changing its name and identity to satisfy Greek demands-nothing more than extortion. This opposition also included the signing of the US brokered 1995 Interim Agreement with Greece which saw Macedonia adopt the temporary name of FYROM (Former Yugoslav Republic of Macedonia) and change its flag pending a final agreement on the name, which came in 2018.
In 2018 the Prespa Agreement, signed by Greece and Macedonia, but in effect created by the US, saw Macedonia change its name to North Macedonia, give up parts of its history and identity in return for Greece not blocking Macedonia's NATO and European Union membership, which Athens had for decades. In 2017, Bulgaria, another important US ally, strongarmed Macedonia into signing the so called Good neighbourly Agreement, which if fully implemented means Macedonia surrendering whatever residue identity not given to Greece in terms of history and identity, goes to Bulgaria, which will then remove its veto on Macedonia joining the European Union.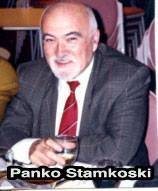 The irony here is Victor Dimovski in his role of intelligence officer was waging an operation in the 1990s which falsely labelled Macedonian dissidents in Australia as extremists and as pro Bulgarian. He now serves a US installed regime in Macedonia led by Prime Minister Zoran Zaev that is openly pro Bulgarian.
The 1990s Macedonian intelligence files accuse Australian Macedonian newspaper editor Panko Stamkoski of being an extremist and Vrhovist, meaning pro Bulgarian, which are clearly contradicted by the 1984 Australian intelligence (ASIO) assessment on Stamkoski, identified as being anti Yugoslav, Greek and Bulgarian. That same 1984 ASIO report took seriously claims made by Stamkoski that he had received death threats from Yugoslav intelligence (UDBa). In all probability emanating from the Bitola HQ of Viktor Dimovski, then a Yugoslav intelligence officer.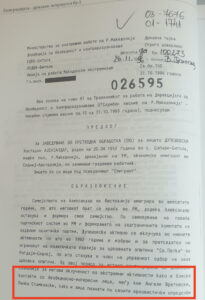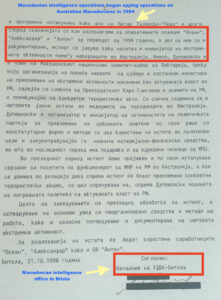 The two declassified Macedonian Intelligence (DBK) files from 1996- the top one mentions Panko Stamkoski and labels him as a "Vrhovist." The bottom file reveals that spying operations on Macedonians in Australia began in 1994-within the operational tour of duty of Viktor Dimovski-and from the Bitola HQ.
You can clearly see a campaign of falsely labelling as extremists or terrorists Australian Macedonians or issuing death threats against them, who were critical of Yugoslavia pre 1991 and critical of an independent Macedonia giving into Greek demands to change its name.
These are the very intelligence skills that say the US- to neutralise opposition from the Macedonian diaspora- would find useful. Viktor Dimovski is that man with those skills. He is not the only one with a compromised pro Serb Yugoslavist past in Macedonia who has been "co-opted" by the US for its strategic needs. Whether that has been through blackmail or bribery remains the questions. But "co-opted" he and others like him such as Macedonia's President Stevo Pendarovski, ex Foreign Minister Denko Maleski and current Defence Minister, Radmila Sekerinska have been. These individuals have never been pro-Macedonian in the first place.