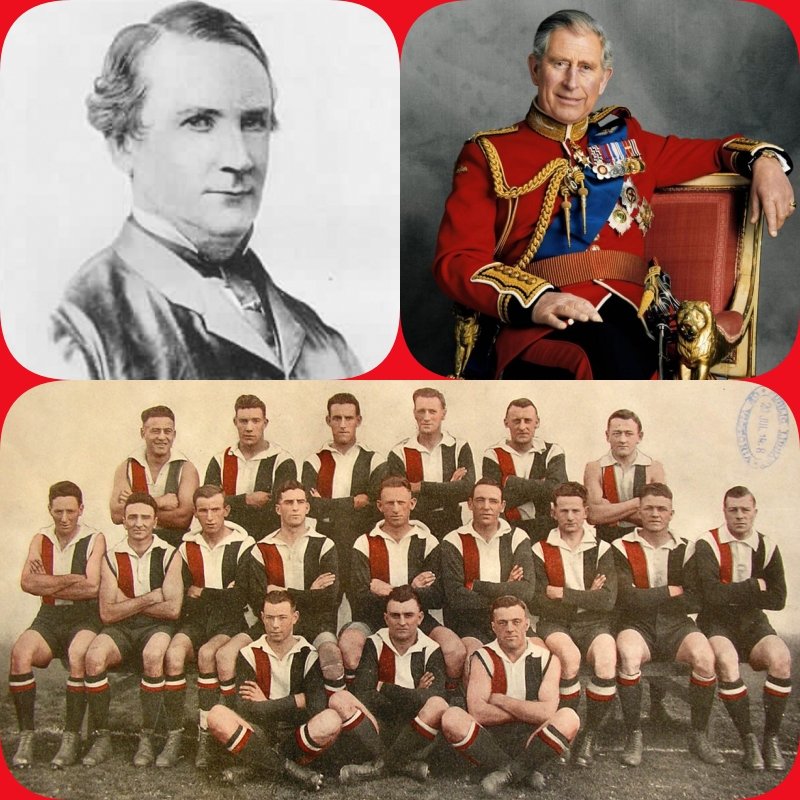 By Sasha Uzunov
Australian Rules Football club St Kilda of Melbourne, which competes in the elite Australian Football League (AFL), will celebrate its 150th birthday on 2 April 2023. One of its founding fathers in 1873 was Englishman Charles Skinner, who is possibly a distant relative of present monarch King Charles III and also claims a link to legendary Scottish King Robert the Bruce, featured in Mel Gibson's Oscar winning film Braveheart.
St Kilda's other founding fathers of 1873 include Irishman JJ Casey, who has a fascinating story of his own but more of that later; the prominent British-Australian Bage family; Edward Shew, a bank manager turned crime solver and handwriting expert; and George Skinner, Charles Skinner's son.
Englishman Charles Skinner (1816-95) came from what is believed to be a noble family with ties to British and Scottish royalty, well that is what the colonial press in Victoria, Australia, claimed in his 1895 obituary.
He was born in 1816 in Madras, then British Colonial ruled India before settling in British colonial ruled Victoria, Australia. A lawyer by training he became a judge in Melbourne and was often refereed to as His Honour Judge Skinner. His son George, also born in India, was a solicitor in Melbourne and one of the founding committee members of St Kilda in 1873.
An 1895 press obituary of Judge Skinner reported:
"He comes from an old English family which dates back from the time of William the Conqueror…It seems that the family claim to be of ancient descent, going back to William the Conqueror in England and Robert Bruce in Scotland."
William I or William the Conqueror was a Norman king from France who conquered Britain in 1066. The current British Royal family is related to him. Robert the Bruce became King of an independent Scotland after waging war against English rule.
The Melbourne suburb of Malvern, the obituary explains, was named by Judge Skinner after his family's ancestral estate back in England.
– SHAMROCK SAINTS.ST. KILDA FC FOUNDING PRESIDENT – JAMES JOSEPH CASEY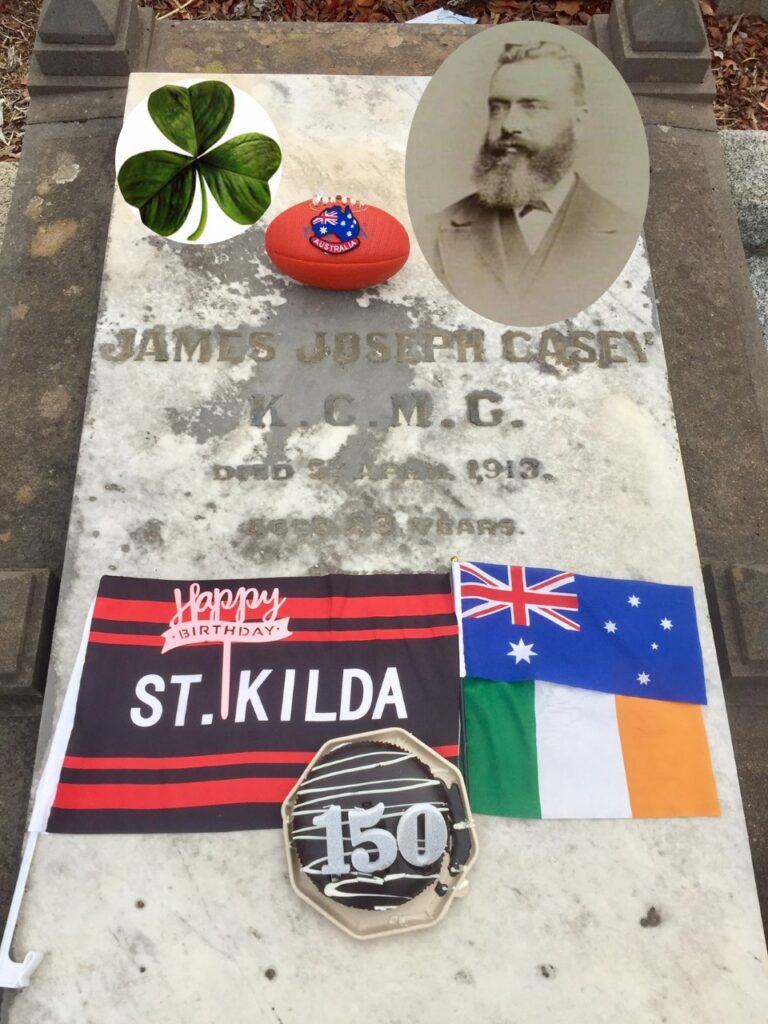 James Joseph Casey, an Irish Catholic, (1831-1913) was born in Tromra, County Clare in Ireland then under British rule. At age 18 he left his native Ireland and sailed for America. In the United States he worked as a prison guard and as a clerk on a Mississippi river steamboat. Casey returned to Ireland in 1854 and a year later migrated to the then British colony of Victoria, Australia. There he would make his name as a lawyer, judge and Member of Parliament. Casey was St Kilda Football Club's founding President in 1873. A position he held until 1879.
---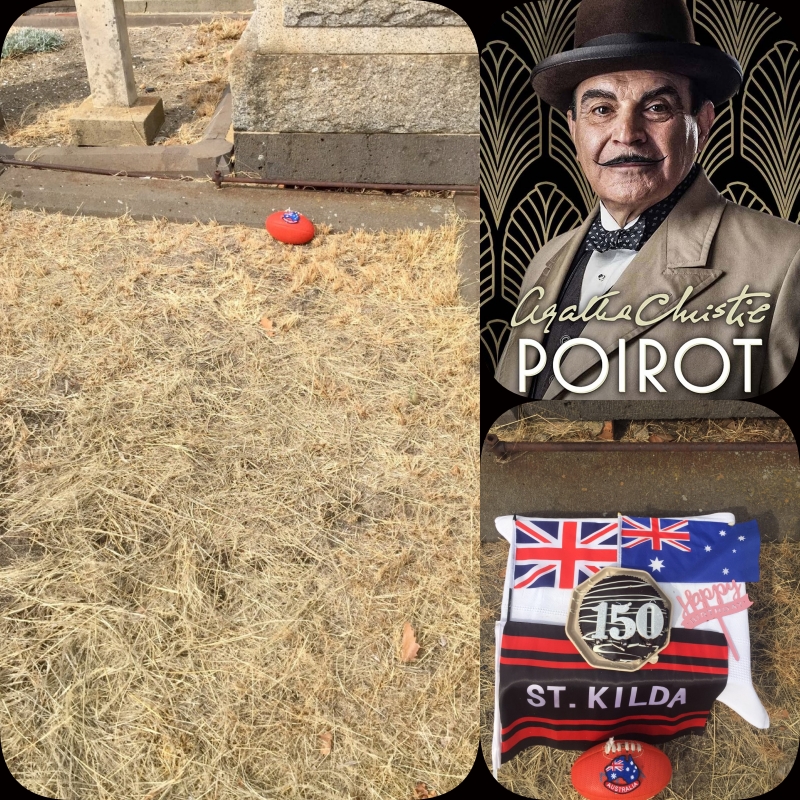 ST. KILDA FC's REAL LIFE HERCULE POIROT – 1873 Club Founding Treasurer Edward Shew (1849-1920), banker, hand writing expert, sleuth.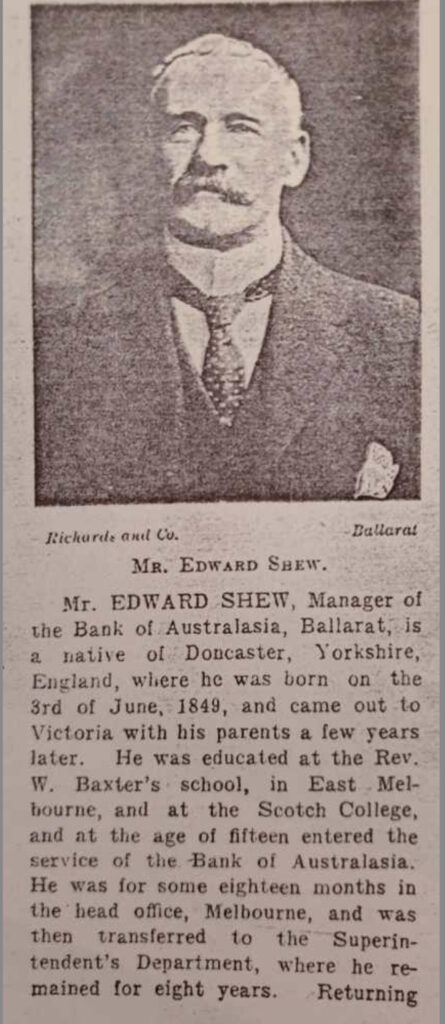 English crime author Agatha Christie's fictional Belgian detective Hercule Poirot was renowned for his attention to detail, sharp analytical brain. Christie's real-life compatriot down under Edward Shew shared those very same qualities.
Edward Shew, born in Doncaster, Yorkshire, England, arrived in then British colony of Victoria, Australia, as a small child with his family. Educated at Scots College in Melbourne (1860-63) he became a highly competent and well-respected senior manager with the Bank of Australasia (now the ANZ Bank), working in Ballarat and Melbourne. He was also an animal lover and a passionate member of the RSPCA (Royal Society for the Prevention of Cruelty to Animals). Shew was a committee member of the "British patriotic" group the Royal Society of St George, Victorian, Australian branch.
In 1873 he became the founding treasurer of Australian Rules Football club St Kilda Football. But his main claim to fame came as a hand writing expert called upon to testify in countless fraud cases. Shew was an expert witness in the 1892 murder trial of infamous serial killer English born Frederick Deeming who had used aliases.
Some have claimed that Deeming was the infamous Jack the Ripper killer in England.
In 1917 Victoria Police and the Chief Justice of Victoria, Sir John Madden (a dedicated Collingwood football club patron) consulted as a hand writing expert Shew in the Sefton case, the murder of a month-old baby by its father. The infant, born out of wedlock, was found dumped in the Yarra River.
A 1919 Australian press story profiled Shew:
"Since 1886 Mr Shew has been sought after to examine disputed or incriminating documents and at his home, "Otmoor," Crimea street St Kilda, is a collection of ' exhibits " indexed and arranged with the utmost care in a special cabinet which would furnish material for a book of absorbing interest"
A twist to the Shew story is he lies in an unmarked grave in St Kilda Cemetery, in the Melbourne suburb of St Kilda. And it took some detective work to locate his final resting place!