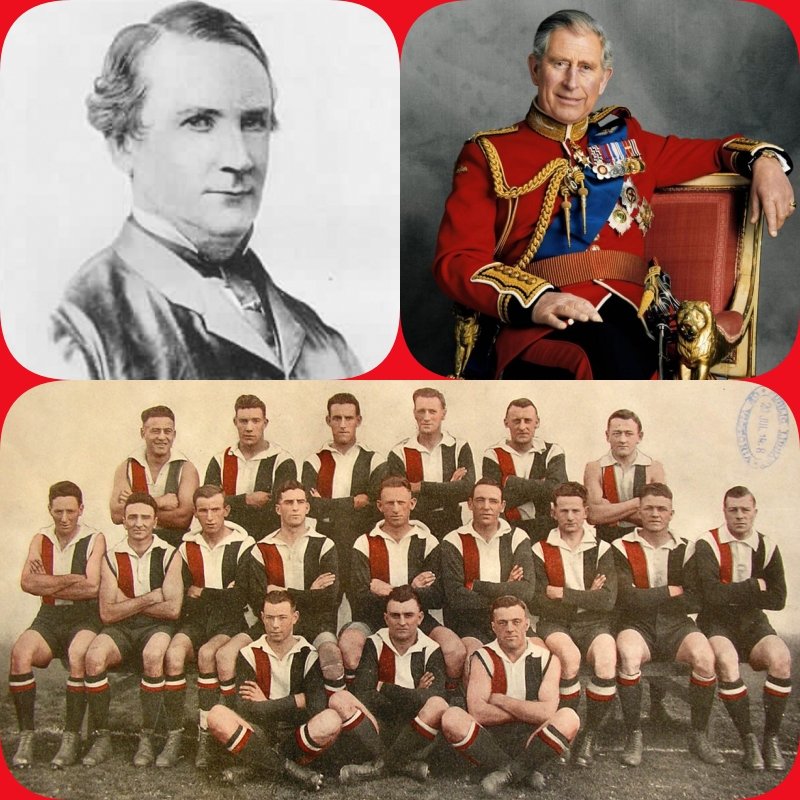 By Sasha Uzunov
Australian Rules Football club St Kilda of Melbourne, which competes in the elite Australian Football League (AFL), will celebrate its 150th birthday on 2 April 2023. One of its founding fathers in 1873 was Englishman Charles Skinner, who is possibly a distant relative of present monarch King Charles III and also claims a link to legendary Scottish King Robert the Bruce, featured in Mel Gibson's Oscar winning film Braveheart.
St Kilda's other founding fathers of 1873 include Irishman JJ Casey, who has a fascinating story of his own but more of that that later; the prominent British-Australian Bage family; Edward Shew, a bank accountant turned crime solver and handwriting expert; and George Skinner, Charles Skinner's son.
Englishman Charles Skinner (1816-95) came from what is believed to be a noble family with ties to British and Scottish royalty, well that is what the colonial press in Victoria, Australia, claimed in his 1895 obituary.
He was born in 1816 in Madras, then British Colonial ruled India before settling in British colonial ruled Victoria, Australia. A lawyer by training he became a judge in Melbourne and was often refereed to as His Honour Judge Skinner. His son George, also born in India, was a solicitor in Melbourne and one of the founding committee members of St Kilda in 1873.
An 1895 press obituary of Judge Skinner reported:
"He comes from an old English family which dates back from the time of William the Conqueror…It seems that the family claim to be of ancient descent, going back to William the Conqueror in England and Robert Bruce in Scotland."
William I or William the Conqueror was a Norman king from France who conquered Britain in 1066. The current British Royal family is related to him. Robert the Bruce became King of an independent Scotland after waging war against English rule.
The Melbourne suburb of Malvern, the obituary explains, was named by Judge Skinner after his family's ancestral estate back in England.
– MORE TO FOLLOW