Australian Rules Football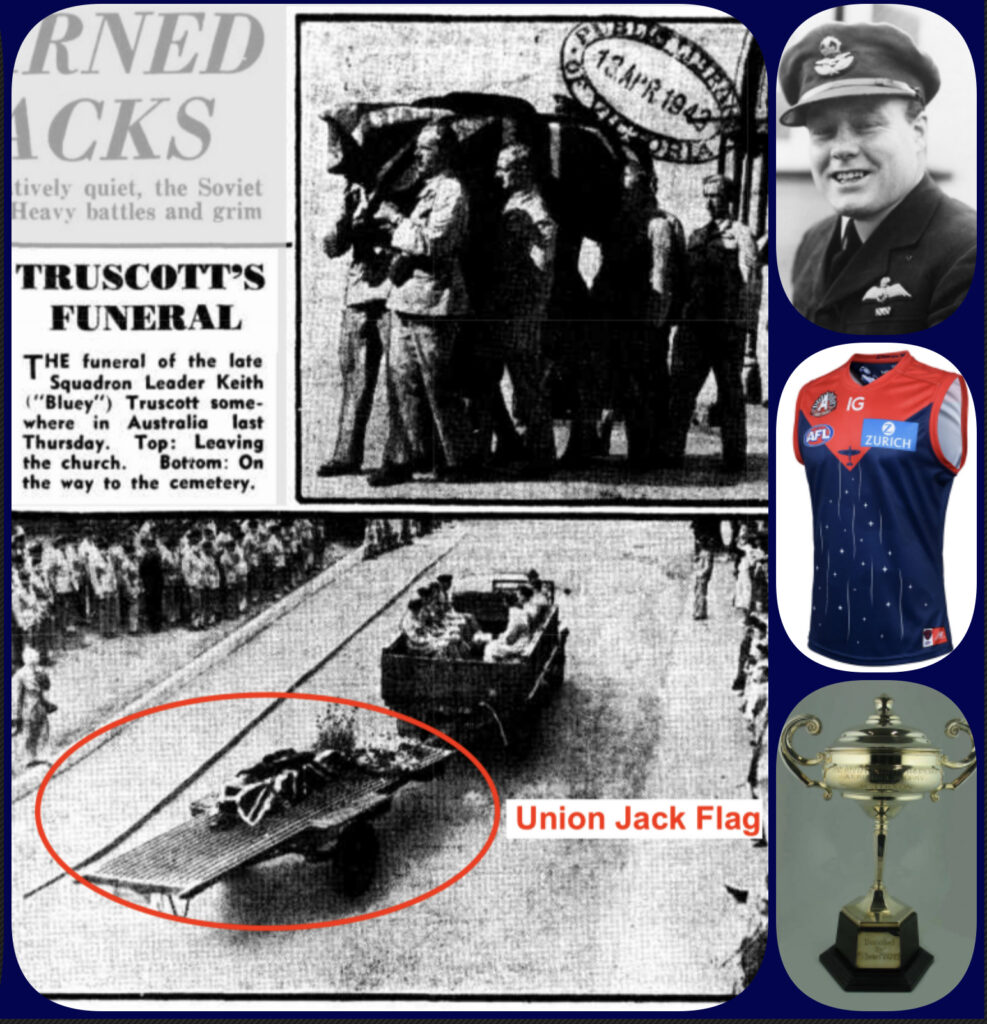 By Sasha Uzunov
Melbourne Football Club will not be inviting the UK High Commissioner (Ambassador) to Australia to present the club's Best and Fairest award named in honour of a Mebourne footballer who volunteered to fight for Britain in WWII and was tragically killed 80 years ago, according to the club spokeswoman Ms Caitlin Nobes.
Melbourne Football Club Manager Ms Nobes issued the following statement:
As a club, we honoured the 80th anniversary of Keith 'Bluey' Truscott's passing earlier this year, with the launch of our 2023 ANZAC Day Eve guernsey [jumper]. The design of this guernsey was inspired by the life Bluey lived, and legacy he left.
"With regards to the Best and Fairest event, the top five are presented their awards by our AFL Senior Coach"
Squadron Leader Keith "Bluey" Truscott was a Melbourne footballer, an Australian who identified as culturally British, who gave up playing Australian Rules Football in 1940 to volunteer and fight for Britain against Nazi Germany. He became a fighter pilot ace, serving within the ranks of Britain's Royal Air Force (RAF), and credited with numerous "kills" of Nazi German planes over the skies of Britain.
Truscott received a double award of the Distinguished Flying Cross (with bar), a high ranking medal for bravery in the sky.
In a moving letter to his mother published in the Australian press, Bluey Truscott, nicknamed for his mop of red hair, wrote: "proud to be British, mother. Proud to be Australian."
Truscott spent nearly a year in Britain and was engaged to be married to a London based Welsh girl. He was posted back to Australia to serve with the Royal Australian Air Force (RAAF), subordinate to the British RAF.
Australia at the time was a self governing "dominion" within the British Empire. An Australian nationality and citizenship only coming into being in 1948.
On 28 March 1943 Truscott was killed in a training flight off the coast of Western Australia. Melbourne Football Club, in his honour, named its Best and Fairest award the Keith "Bluey" Truscott trophy.
Truscott was given full military honours at his funeral. A British Union Jack flag was drpped over his coffin which was carried on a gun carriage.
Melbourne's 2023 ANZAC Day – April 25 – guernsey omitted the British Union Jack Flag and only features a WWII figther plane, a British Spitfire. ANZAC Day is an Australian national holiday and is tied to the 1915 landing at Gallipoli, Turkey, during WWI by Australian troops under the aegis of the British Empire.
"Britishness" remains a very touchy subject within the Australian Football League (AFL), the governing body of the game and of which Melbourne is a club of.
Melbourne Football Club, nicknamed the Demons, was founded in 1858 by two British cousins, Tom Wills and H.C.A. Harrison, both born in the then British Colony of New South Wales, now Australia.
The AFL, known as the Victorian Football League (VFL) until 1990, was founded by British people in Australia in 1896. The VFL remained staunchly culturally British until the late 1970s. The British Royal anthem God Save the Queen was played at finals matches unto about 1980.
The AFL in an attempt to appear anti-colonial and reaching out to indigenous Australians has largely erased its British heritage. Some people view the AFL's policy on anti-colionialism as hugely contradictory. The AFL openly promotes US nationalism, which has "colonial issues" with native indigenous Americans; and the US government, through its embassy in Australia, began in the 1950s to spy on and target indigenous Australian leaders. One such leader Bill Onus was banned from entering the US.
The AFL has handed out football jumpers to American political VIPs, including then US Vice President (now President) Joe Biden who regards Christopher Columbus, a figure reviled by American Indians as a coloniser, a hero.
Moreover, the AFL has a long standing relationship with the controversial US NFL, a sports body condemned by native indigenous Americans. One NFL team called the Buffalo Bills "honours" a man Buffalo Bill Cody who was infamous for killing native Americans in the late 19th century.