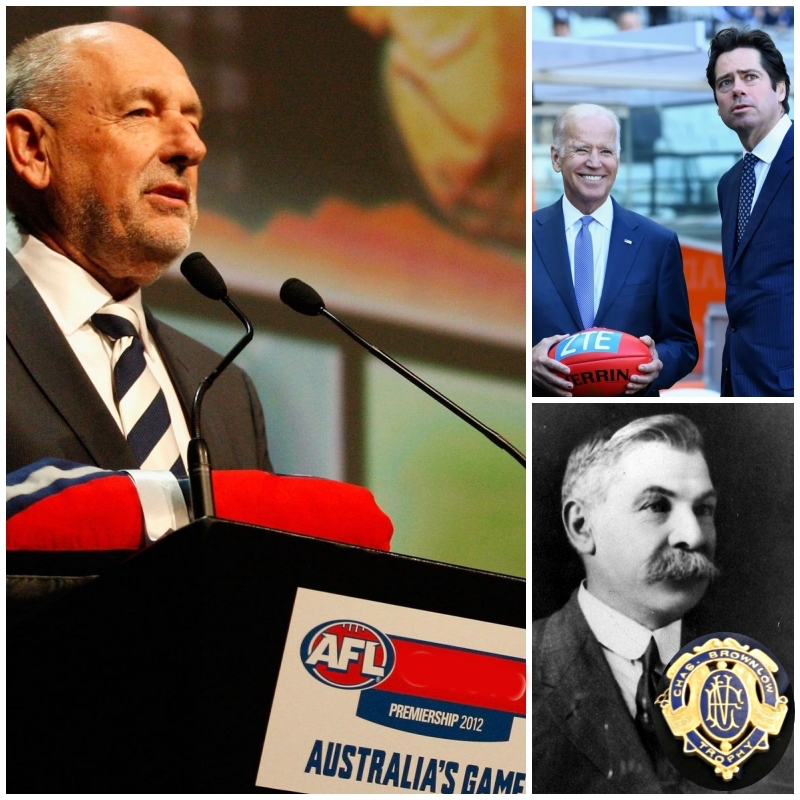 BUT NO COMMENT ON BROWNLOW MEDAL NAME CHANGE
By Sasha Uzunov
Mr Colin Carter, respected Australian business consultant and one of the architects of modernising the administration of Australian Rules Football, says there is no US political interference in the game's governing body, the Australian Football League (AFL) and that certain US sports practices were only copied out of necessity. But he would not be drawn to comment over whether the Brownlow Medal name should be changed because of its links to Britishness.
"I have no interest in engaging in this. It's all too far-fetched for me. And I have never once seen any evidence for American interference in our game. And we copied bits of US football only because some practices were sensible," Mr Carter said.
He was asked to respond to a series of questions ranging from US political influence in Australian Rules Football to AFL Commissioner Simone Wilkie's promotion in 2022 on the AFL's official website of controversial ex US Army General and ex-Central Intelligence Agency (CIA) Director David Petraeus to the US NFL's bad relationship with native indigenous Americans to the AFL giving jumpers to US politicians and diplomats.
Mr Carter was also asked:
"Will you be calling for the AFL to cut its ties to the US NFL and stop glorifying the NFL Super bowl?"
"Do you support calls for "re-Australianising" the AFL, that is removing US sports terms such as turnover, road game, thrown a curve ball etc. from the AFL?
"You've pushed for the VFL/AFL, which was formed in 1896 by Australian British Subjects, to have its start date as 1870 but that would only confirm the VFL/AFL was a British cultural sporting institution. Do you agree?"
On the subject of the Brownlow Medal, Mr Carter was asked:
"Many of the VFL/AFL's early heroes, icons, pioneers such as Charles Brownlow (and his Geelong club of that era) clearly identified as Australians who were culturally British. Geelong FC was even active in fundraising for a watchtower monument for British King Edward VII to be built in Geelong GPO building to commemorate his death in 1910. Why does the AFL downplay its heroes' British heritage and identity? Why not have new heroes? Should the Brownlow Medal be renamed?"
The AFL's Best and Fairest award, given since 1924, is named in honour of Football administrator Charles Brownlow, an Australian who identified as culturally British, as did most Australians of that era. Brownlow, a staunch British monarchist, was the power behind the throne at the Geelong Football Club as Secretary from 1885 until his death in 1924. He was caretaker VFL President from 1917 to 1919.
The AFL, formerly the Victorian Football League (VFL) until 1990, was formed in 1896 by Australian "Britishers," as was the original governing body the Victorian Football Association (VFA),formed in 1877. Eight VFL clubs, including Geelong, left the VFA to form the VFL in 1896 over a dispute over control of finances and poor management.
Colin Carter, a prominent business figure in Australia with the consulting form BCG Group, was Geelong Football Club President from 2010 to 2021, AFL Commissioner from 1993 to 2007. His latest project is a thought provoking book, Football's Forgotten Years, which has sparked enormous controversy and passion in Australian Rules Football circles.
In 1985 the VFL (AFL) Commissioner hired Carter as a consultant to find a remedy to the financial mess the competition had found itself with individual clubs engaged in bidding wars for players and assertive player rights.
Many of the recommendations that came out of Carter's investigation was to borrow ideas from major sporting competitions in the United States, such as the US National Football League (NFL)-American Football, National Basketball Association (NBA), Major League Baseball, National Hockey League (NHL), in terms of player contracts, the drafting of players, equalising the competition and removing clubs becoming bankrupt in bidding wars.