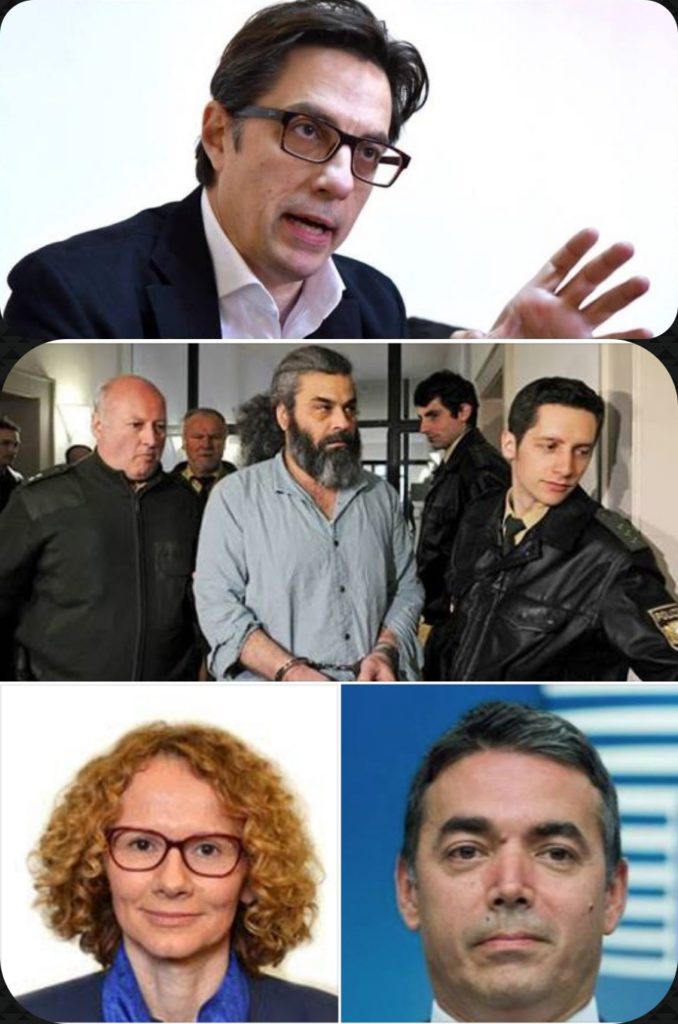 by Sasha Uzunov
Macedonia on the weekend stands poised to elect as President a former counter-intelligence officer Stevo Pendarovski linked to the brutal torture/rendition in a CIA ops that went terribly wrong in 2003 and went all the way to the European Court of Human Rights – known as the El Masri scandal.
Pendarovski is the favourite to take the Presidency in the run-off second round on Sunday.
There is an old Macedonian saying – baram za da ne najdam – I am searching in order not to find whatever it is I am searching for. The Khaled El Masri case and the role of Open Society (George Soros foundation to the uninitiated) fits that description.
Open Society is simultaneously the defender of El Masri's rights – an innocent German Lebanese man arrested by Macedonian Police in 2003 and handed over to the CIA in the mistaken belief he was an Islamic terrorist.
But Open Society Foundations is either deliberately or inadvertently the defender of those who are connected to his brutal rendition at the hands of the CIA – Stevo Pendarovski, now running for the Macedonia Presidency; Radmila Sekerinska, now the Macedonia Defence Minister and Nikola Dimitrov, now the Foreign Minister. It's no coincidence all three are also US political clients, who have been groomed for their roles, that is supporting and delivering name change of Macedonia for US strategic needs.
Pendarovski is a former counter-intelligence officer; Nikola Dimitrov has been found to be an informer for the US and in all probability would have been in the loop about the rendition of El Masri, likewise Pendarovski; and Radmila Sekerinska has been groomed for a leadership role in Macedonia by the US.
It's no coincidence that calls for justice and holding people to account in the El Masri case seem to stop just short of the aforementioned three. The most obvious question is why?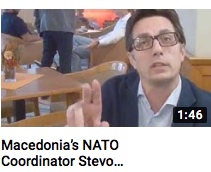 PENDAROVSKI – a safe pair of US hands as President of "North Macedonia?" 
He began his career as a counter-intelligence officer/analyst in Macedonia's Interior Ministry (MVR) in the late 1980s when the country was still part of Federal Socialist Yugoslavia until it collapsed in 1991 with Macedonia becoming independent. Old Yugoslav intelligence (known as UDBa or SDB) was notorious for assassinating opponents abroad and also engaging in false flag operations, which even reached the distant shores in Australia.
Pendarovski also combined a career as an academic with his spy work. During the 1990s he was close to the Slobodan Milosevic regime of Serbia as Macedonia was used as a conduit for UN sanctions busting and smuggling. The CIA noted in two key declassified reports in 1994 and 1995 about a pro-Milosevic atmosphere in Macedonia. The US spent nearly a decade in taking down Milosevic which it eventually accomplished by 2000.
But sometimes people who are compromised become very loyal. 
1988-1998 THE BLANK DECADE?
From 1998 to 2001 Stevo Pendarovski was the Chief of the Analysis and Research section – a euphemism for counterintelligence – in Macedonia's Interior Ministry.
Three major events happened during his watch – the 1999 NATO war in Kosovo, the 1999 US Embassy attack in Skopje and the 2001 ethnic Albanian War. In 2001 he became a Security advisor to President Trajkovski and held that position till 2004.
In 2014 Pendarovski was unsuccessful in his bid to become President of Macedonia, losing out to George Ivanov.
According to Pendarovski's resume – the period 1988 to 1998 remains a blank. In all probability, he was lecturing at University during this time or undertaking postgraduate studies.
How does someone become chief of a defacto counterintelligence unit within the Interior Ministry without any previous policing, intelligence or military experience?
Two possibilities- Pendarovski has previous intelligence experience which he hasn't disclosed – perhaps UDBa (SDB) during the Yugoslavist era or his appointment without any relevant experience to the Interior Ministry through political connections, which means corruption could be involved.
Either way, it raises more questions than answers.
In more recent times Pendarovski was Macedonia's NATO Coordinator – and only a man who was 100% committed to US interests would be entrusted with such a position.
Backing him domestically is Albanian nationalist party (DUI) led by Neo-Nazi extremist and ex-terrorist Ali Ahmeti, another US political client, who has been happy to overlook Pendarovski's Yugoslavist past. All of this shows the deep cynicism involved and the manipulation by Washington as long as its objectives are met such as name change, NATO membership for Macedonia, keeping the Greeks and Bulgars happy or happy enough to allow Macedonia's NATO membership as "North Macedonia – who cares if it is contradictory, immoral and so on. But all of this has been packaged as "moving forward." 
I've attempted to contact Mr Pendarovski recently via social media about his link to the El Masri scandal but have received no response.
Last year in a doorstop interview in Skopje, Macedonia, he was uncomfortable discussing his Yugoslavist past and made some crazy claims of me being sent by someone to discredit him. I suppose once a suspicious counterintelligence officer always a suspicious counterintelligence officer. Old habits are hard to shake for Pendarovski.
BACKGROUND: THE EL MASRI CASE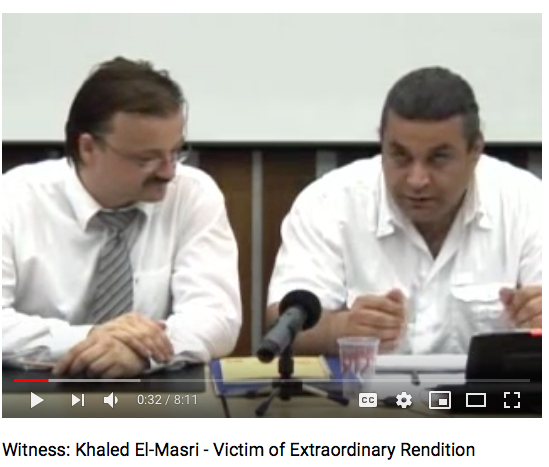 The 2003 El Masri scandal in Macedonia highlights the very close relationship between the US, CIA & Macedonia's intelligence service. Some current government members such as Defence Minister Radmila Sekerinska was then Deputy Prime Minister & Foreign Minister Nikola Dimitrov was Ambassador to US.
El Masri was falsely accused of being a terrorist and arrested on his arrival in Macedonia in December 2003. He was handed over to a CIA rendition team; taken to Afghanistan and tortured before being released when it was discovered the CIA had the wrong man. The Macedonian government in obediently cooperating with the US harmed its reputation over human rights and made it susceptible to future US blackmail.
El Masri sued the Republic of Macedonia in the European Human Rights Court and in 2012 it handed down its findings:
The Grand Chamber judgment in the case of El-Masri v. "the former Yugoslav Republic of Macedonia" (application no. 39630/09), which is final, the European Court of Human Rights held, unanimously, that there had been:
-a violation of Article 3 (prohibition of torture and inhuman or degrading treatment) of the European Convention on Human Rights on account of the inhuman and degrading treatment to which El-Masri was subjected while being held in a hotel in Skopje, on account of his treatment at Skopje Airport, which amounted to torture, and on account of his transfer into the custody of the United States authorities, thus exposing him to the risk of further treatment contrary to Article 3;
-a violation of Article 3 on account of the failure of "the former Yugoslav Republic of Macedonia" to carry out an effective investigation into El-Masri's allegations of ill-treatment;
-violations of Article 5 (right to liberty and security) on account of his detention in the hotel in Skopje for 23 days and of his subsequent captivity in Afghanistan, as well as on account of the failure to carry out an effective investigation into his allegations of arbitrary detention;
– a violation of Article 8 (right to respect for private and family life);
and,
a violation of Article 13 (right to an effective remedy).
The case concerned the complaints of a German national of Lebanese origin that he had been a victim of a secret "rendition" operation during which he was arrested, held in isolation, questioned and ill-treated in a Skopje hotel for 23 days, then transferred to CIA agents who brought him to a secret detention facility in Afghanistan, where he was further ill-treated for over four months.
The Court found El-Masri's account to be established beyond reasonable doubt and held that "the former Yugoslav Republic of Macedonia" had been responsible for his torture and ill-treatment both in the country itself and after his transfer to the US authorities in the context of an extra-judicial "rendition."
---
All of this came to light during an investigation led by Swiss Senator Dick Marty – who also led an investigation into the illegal human organ theft in Kosovo.
2005 – The pressure from the EU on El Masri case – link
Then EU ambassador Erwan Fouré to Macedonia : "Macedonia must give us more information"
"Following the queries by several MEPs, the answer of the Macedonian government consisting in just few words is far from being satisfactory, said Fouré.
EU once again asked for an answer from the Macedonian government on the case El Masri, and Fouré already arranged a meeting with the interior minister Ljubomir Mihajlovski – Dzango.
"This a serious question and the answer which Director General responsible for Western Balkans in the European Commission Reinhard Priebe got from Deputy Prime Minister Radmila Sekerinska, is not satisfactory. When we receive all information we will decide how we will deal with the case, said Fouré."
 It's interesting to note that both Foure and Priebe, both key players in changing Macedonia's name through their influential roles and reports, have conveniently gone quiet over Sekerinska's link to the El Masri cover up.
– ENTER OPEN SOCIETY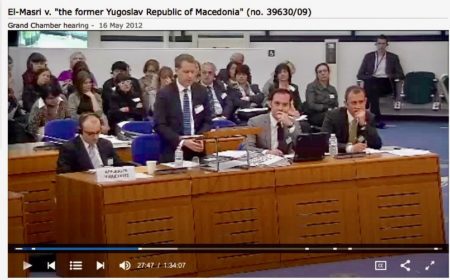 On 2 April 2019 I telephoned Open Society's US office asking to speak to Mr James A. Goldston, one of El Masri's lawyers who works for Open Society.
Goldston (pictured standing) led the charge for El Masri in the European Court of Human Rights in 2012.
A 2018 Al Jazeera story reported that Macedonia had issued a formal apology to El Masri.
The story went on to quote Goldston:
"Human rights lawyer James Goldston, who represented el-Masri in the European court case, said he welcomed Macedonia's apology but argued that it was not enough. "Macedonia "has yet to open a formal criminal inquiry into what happened or to hold anyone to account", Goldston said in a statement to the ACLU."
Alternate Comms took up Goldston to his challenge about holding anyone to account and tried to ask him some questions. An email was sent to him just after the phone call on 2 April 2019:
I wanted to bring to your attention that a candidate for the Macedonia Presidency Mr Stevo Pendarovski was in 2003 a prominent National Security Advisor to Macedonia's President at the time of Mr El Masri's kidnapping by Macedonian authorities and handing over to the CIA for rendition and torture.
Q1. If Mr Pendarovski is elected President of Macedonia then any kind of investigation into the Khaled El Masri case may never see the light of day as it might implicate him. What's your reaction to that?
Q2. Mr Pendarovski has refused to comment about any -if any – involvement in the El Masri scandal. Likewise, Macedonia's Foreign Minister Nikola Dimitrov who was then Macedonia's Ambassador to the US and a former National Security Advisor has refused to comment. Macedonia's Defence Minister Radmila Sekerinska was then Deputy Prime Minister in 2003 – she too has refused to comment over her involvement. Mr Goldston, are you aware of this?
BUT NO ANSWER FROM GOLDSTON…
2017 – On the subject of the ACLU – the American Civil Liberties Union – which has taken up El Masri's cause. I contacted the ACLU for comment. There was an initial response then nothing since.
Fri 7/07/2017 12:02 AM
Dear Sasha,
Thanks for your email and interest in the El Masri case. The ACLU represents Mr. El Masri in his case against the United States before the Inter-American Commission on Human Rights. We have been working closely with the Open Society Justice Initiative which has been monitoring developments in Macedonia and especially enforcement of the European Court of Human Rights judgment against the country.
I'm copying Mr. Rupert Skilbeck who is the litigation director at the Open Society Justice Initiative. He might be able to provide on the record comment to your questions.
Best,
Jamil Dakwar
Director, Human Rights Program
American Civil Liberties Union
————————————–
Sasha Uzunov
Fri 7/07/2017 12:12 AM
Thanks Jamil. Mr El Masri deserves justice. As I said his case is still relevant because it could easily happen again in Macedonia.
Perhaps you might be able to obtain under FOI any communications between the Macedonian embassy in Washington with US officials ?
---
SILENCE FROM NIKOLA DIMITROV  – no response to questions relating to El Masri
From: Sasha Uzunov <sashauzunov@hotmail.com>
Sent: Thursday, 7 December 2017 4:57 PM
To: cabinet@mfa.gov.mk; nikola.dimitrov@mfa.gov.mk; mailmnr@mfa.gov.mk
Subject: media query – FM Nikola Dimitrov
Attention Mr Nikola Dimitrov
Foreign Minister
The Republic of Macedonia
MEDIA QUERY – FOREIGN MINISTER MR NIKOLA DIMITROV
Dear Sir,
My name is Sasha Uzunov, an Australian film maker and journalist of Macedonian background who covers the BALKANS region.
I have worked in Iraq and Afghanistan My bona fides as a journalist here:
http://ottawacitizen.com/news/national/defence-watch/afghanistan-outside-the-wire-end-game-a-new-documentary-about-canada-in-afghanistan-to-air-on-cpac-this-week
http://teamuzunovmedia.blogspot.com.au/2017/06/macedonia-serb-spy-saga-is-there-more.html?m=1
The reason why I am writing to you is I wanted to bring to your attention that a Special Public Prosecutor was set up in Macedonia nearly 2 years ago under to ostensibly investigate crime and political corruption in Macedonia.
This body deliberately left out the 2003 Khaled El Masri case even though it had the power to subpoena witnesses including former heads of government and intelligence services.
Concerns have been raised that the El Masri rendition case could happen again in Macedonia. Critics of the current Macedonian (SDSM) government have been falsely accused of being pro Russian and an atmosphere of hysteria has been whipped up. The concern is an Australia or American or Canadian Macedonian travelling to Macedonia and who is a critic of the current government, which was in power during the El Masri case, could be arrested on spurious claims of extremism, a throwback to the paranoia of Yugoslavist times.
There are also concerns about your role as Macedonia's US Ambassador in 2003-04.
——–
Question 1. What if any was your role during the 2003 CIA El Masri kidnapping and rendition case? Will you cooperate with calls from the American Civil Liberties Union (ACLU) to hand over those Macedonian intelligence and interior ministry officials involved in Mr El Masri's illegal kindapping and handing over to the CIA. The European Court of Human Rights judgment has strongly condemned Macedonia's involvement.
Question 2. Will you be calling for international economic sanctions against Serbia and its president Alexander Vucic, whose intelligence officer was caught in the Macedonian parliament during the violent confrontation on 27 April 2017 ?
Question 3: You have alleged Russian-Serb interference in Macedonia which your critics say you have used as a pretext to change Macedonia's name to satisfy Greek demands as well as surrender Macedonian identity to Bulgaria over a so called good neighbourly agreement with Bulgaria but you endorse and attended the inauguration of President Vucic. Isn't that contradictory?
Question 4: What is wrong with Macedonia signing a bi lateral defence agreement with the United States without having to join NATO but still cooperate closely with NATO? Macedonia would not need to change its name or alter its history to satisfy Greek and Bulgarian demands but would still fall under the Western Security umbrella. Australia is not a member of NATO but a staunch US ally and has the ANZUS treaty.
Question 5: Ex-Albanian terrorist turned DUI leader Ali Ahmeti has not faced any corruption charges even though he was a member of the previous government whose leader Nikola Gruevski is facing corruption charges. Also a European Court of Human Rights ruling says that amnesties granted for war crimes are not valid. Will you be pushing for Mr Ahmeti face corruption and war crimes charges in Macedonia?
Regards
Sasha Uzunov
————————
SILENCE FROM RADMILA SEKERINSKA
From: Sasha Uzunov <sashauzunov@hotmail.com>
Sent: Sunday, 18 March 2018 5:12 PM
To: a.kiracovski@sdsm.org.mk
Subject: Media query – Defence Minister Sekerinska – Khaled El Masri
I have an extra question for Minister Sekerinska
Question: The EU criticised you over your handling of the Khaled El Masri torture scandal. Were you aware of the kidnapping and rendition of Mr El Masri in 2003? If so why did you not do anything or intervene as Deputy Prime Minister? If you did not know of it at the time, are not guilty of dereliction of duty?
2005 – The pressure from the EU on El Masri case
EU ambassador Fouré: Macedonia must give us more information
"Following the queries by several MEPs, the answer of the Macedonian government consisting in just few words is far from being satisfactory, said Fouré.
EU once again asked for an answer from the Macedonian government on the case El Masri, and Fouré already arranged a meeting with the interior minister Ljubomir Mihajlovski – Dzango.
"This a serious question and the answer which Director General responsible for Western Balkans in the European Commission Reinhard Priebe got from Deputy Prime Minister Radmila Sekerinska, is not sastisfactory. When we receive all information we will decide how we will deal with the case, said Fouré."
www.statewatch.org/cia/documents/excerpts-from-VREME-macedonia.pdf